Mandu is also popularly known as Mandav or Mandavgad. Sometimes people even spell it Mandavgadh. It was once named "Shadiabad" by an emperor bygone. The literal meaning is "city of joy" – which at some period in medieval history it certainly was. Although one can't say that any longer.
Location of Mandav
The drive was good especially since our driver had a good collection of music and a wonderfully clean car. Most of the areas by the side of the road are paddy fields with the exception of a few newly constructed buildings on the outskirts of Indore. So good music, smooth roads, and an unending green landscape on a bright sunny morning is definitely on. And once you start the uphill part of the journey, you'll know Mandav is not far.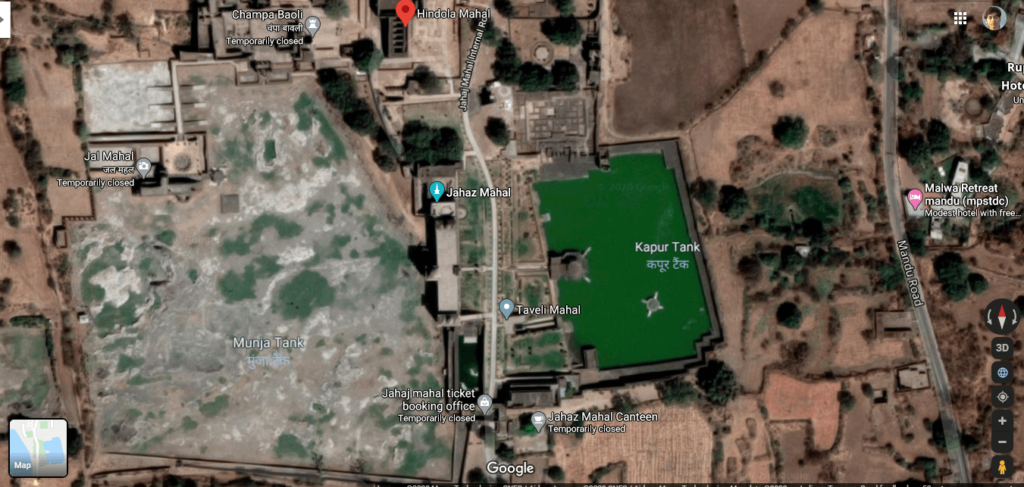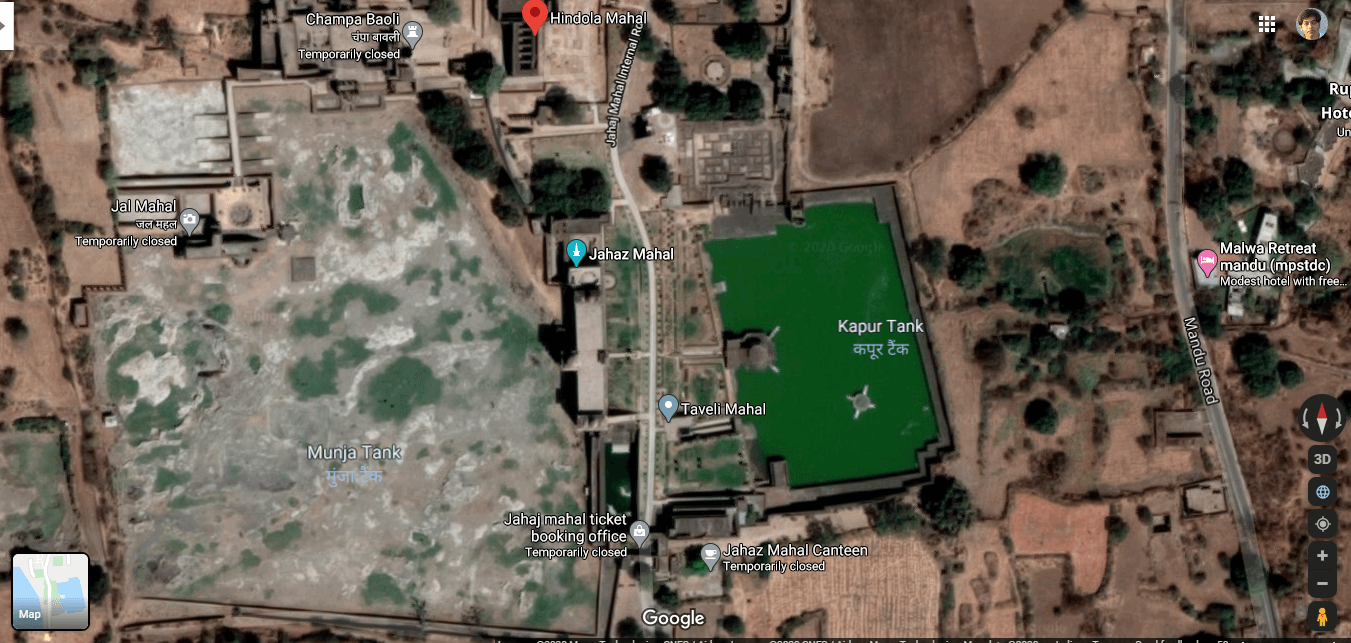 Names and alternate names
Mandu is also popularly known as Mandav or Mandavgad. Sometimes people even spell it Mandavgadh. It was once named "Shadiabad" by an emperor bygone. The literal meaning is "city of joy" – which at some period in medieval history it certainly was. Although we can't say that any longer.
At first glance, Mandu seems like an ancient ghost-town – devoid of people with ruins of archaic palaces and structures doting the landscape. however, you have to connect with its rich and interesting history to appreciate the true beauty of this place. There are a number of places to visit and a full-day is just enough to cover all that this place has in store for you.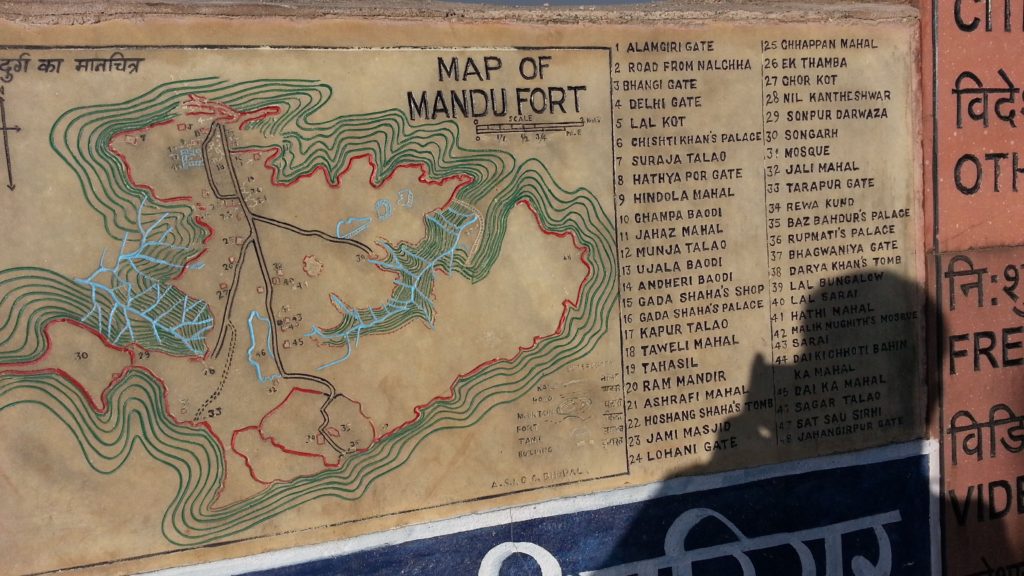 History of Mandav
The famous 11th-century Paramara Rajput king – Raja Bhoj originally founded Mandu as a fortress for monsoon retreat. As Malwa empire's capital, Dhar (then known as Dhara Nagar) prospered under his reign from 1010 to 1055 BC. Bhoj was an ardent scholar of science, arts, and literature and he is believed to have reinforced the Mandav fort. For the next 4 centuries, the Malwa kingdom saw many different rulers and dynasties – from Bhoj's Paramara dynasty to Delhi Sultanate.
In 1401, the Mughals were closing in on Delhi. Their general, Dilawar Khan was made governor of Malwa. He promptly shifted the capital from Dhar to Mandav and declared it as an independent kingdom. After Dilawar Khan, his son Hoshang Shah took the throne and went on to make a brilliant career as a ruler well-liked by his subjects. He went on to rule Mandav for some 30 odd years and carried out a slew of reinforcements on the fort. Hoshang Shah died in 1435 and his son Mahmud Shah was poisoned by Mahmud Khan who assumed thone establishing the Khalji dynasty in Mandav. Mahmud Khan ruled for another 30 odd years succeeded by his maverick son – Ghiyas-ud-Din Shah. Ghiyasuddin was some kind of a Casanova. It is said that he had 15,000 women in his harem.
Jahaz Mahal of Mandu
Ultimately it came under the rule of the famous lover-boy king Miyan Bayezid Baz Bahadur Khan. The legend goes that Baz Bahadur (sometimes spelt as Baaz) was an ardent music buff and had no interest in battles and wars like the other kings of his time. Once he came across a beautiful maiden singing and dancing with her friends in the forest. It was love at first sight. Baz Bahadur soon found out she was Roopmati, an exceptionally talented and beautiful lady. He eventually asked her hand in marriage to which she agreed on one condition. She wanted a palace overlooking the Narmada river which she was spiritually devoted to.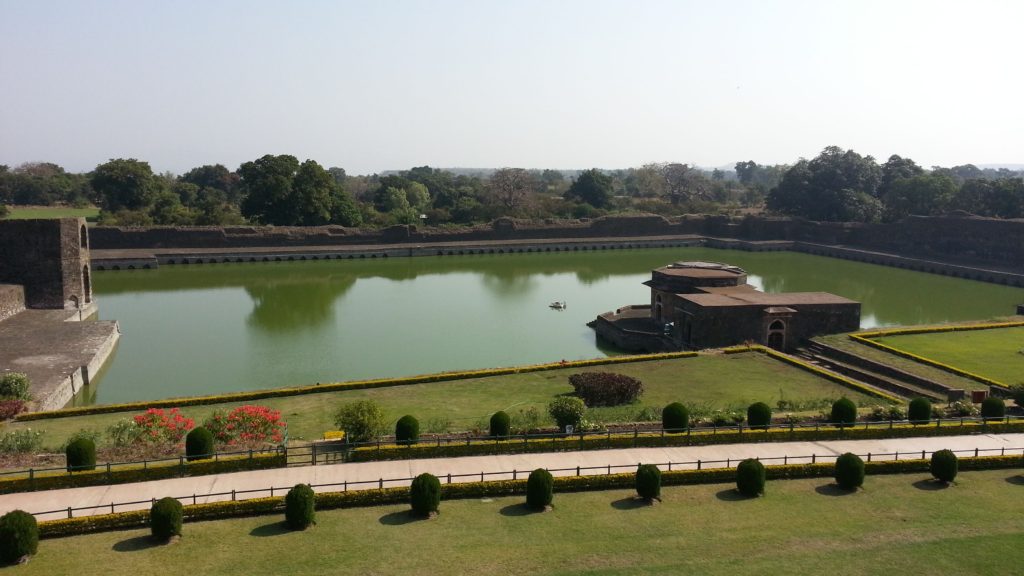 It is said that Baz Bahadur constructed the Rewa Kund (Rewa is an alternate name for Narmada and Kund means reservoir) in front of the Jahaz Mahal. Just so that his beloved Rani Roopmati could pay homage to the river goddess every morning. Their love story continued to propagate far and wide. The love saga is still heard in the folklore till today. Roopmati went on to write a collection of poems that got translated into multiple languages.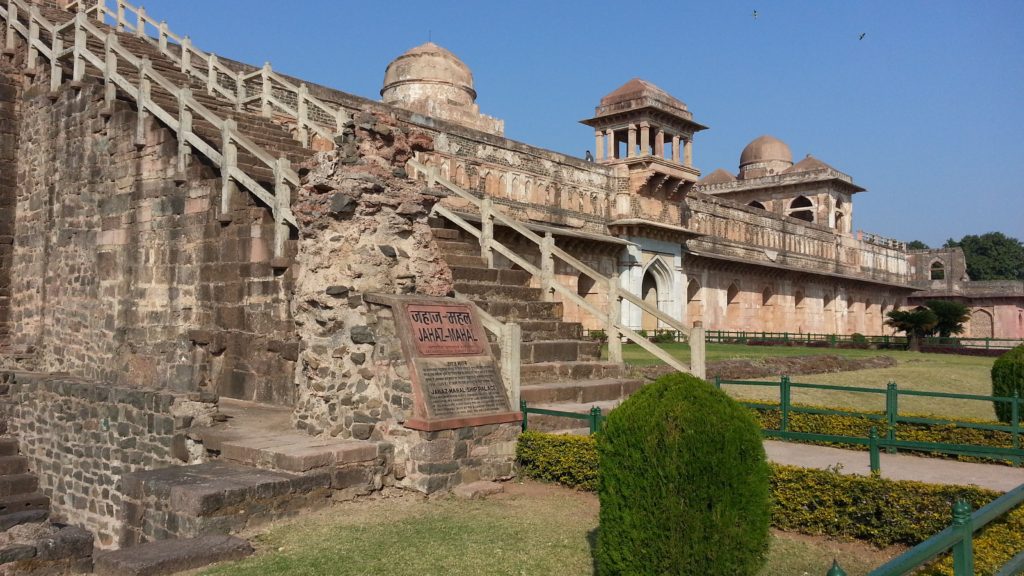 Baz Bahadur and Rani Roopmati
Baz Bahadur and Rani Roopmati's love affair ended abruptly and rather tragically in 1561 when Mughal emperor Akbar sent Adham Khan to seize control of Mandu. Eventually, Baz Bahadur had to flee – he was never meant for wars. It is said that Adham Khan had a thing for Roopmati and fancied her because he had heard of her exquisite beauty. Roopmati apparently knew this and as soon as she realized her lover had been defeated, she committed suicide by poisoning herself.
You might have noticed this story has a lot of similarities with the story of Rani Padmavati. In fact, when I was watching the 2018 movie Padmavat, I was instantly reminded of the Mandu story. Maybe it was common for queens to commit suicide during the enemy siege. Maybe a story got weaved around it – a glorified legend passed on from generation to generation. Who knows?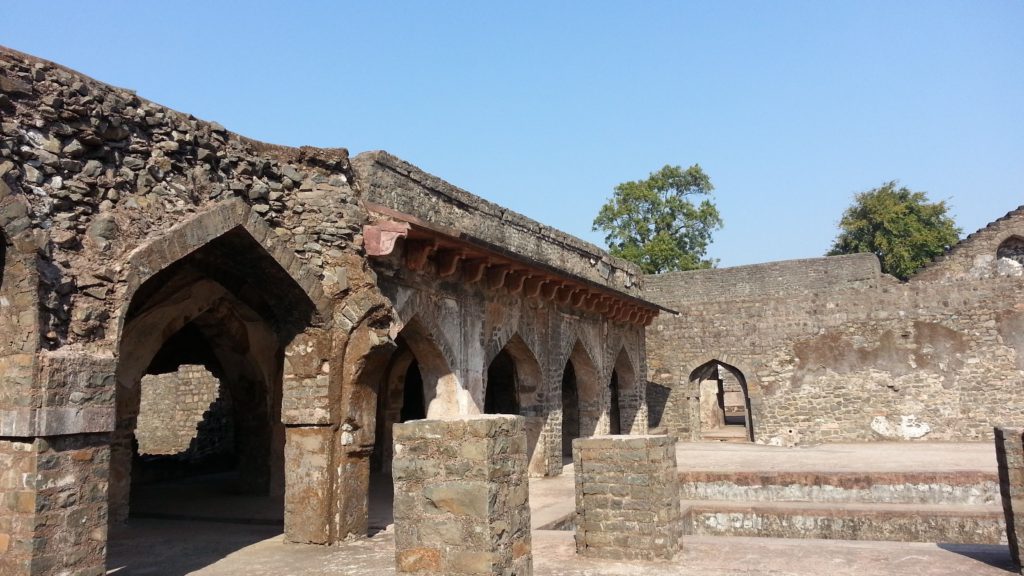 The Jahaz Mahal is known for it's romantic beauty. It stands length-wise in a narrow strip of land between the waters of the Munja and Kapur tanks.
When to visit Mandav?
It is widely believed that the best time to visit Mandu is during monsoon. Logic – the lakes are full and the clouds inspire a romantic feeling somehow. I don't quite agree with this. We visited Mandu on a clear and pleasant December morning. It was awesome for photographs and the weather provided a cheerful background to the otherwise gloomy and somewhat depressing surroundings. So in my opinion, choose a bright sunny morning – winters are not that cold in M.P anyways – pack some beer and you are good to go.