This ancient toy train (called "Cog railway" in Europe) transports tourists from Jenbach to Achensee. Maurach is on the way between – much closer to Achensee. We disembarked here in Maurach and instantly fell in love with the picturesque country-side. 
The travel plan for Maurach
It was quite early when we woke up to a rainy morning at the Trend hotel in Innsbruck – our second day in Austria. We had scarcely got over the Vienna tour of the day before and the second day had already began. Phew ! How time flies when you are on holiday. Ravi checked the train time-table – "Lets aim for the 10:30 train to Jenbach" he announced. "So we target 9:30 to finish breakfast and then we push off for the hauptbahnhof." I glanced at my watch. "Its barely 8 o clock right now and the station is not very far. That means we have enough time to indulge in the buffet treats." I beamed at all the cheerful faces around me and everyone seemed to nod their heads in agreement.
A hearty breakfast later, we were all huddled up at the bus stop opposite our hotel. While waiting for the bus, Ravi made us go through the day's itinerary once more. A meticulous planner, he never leaves anything for the last moment.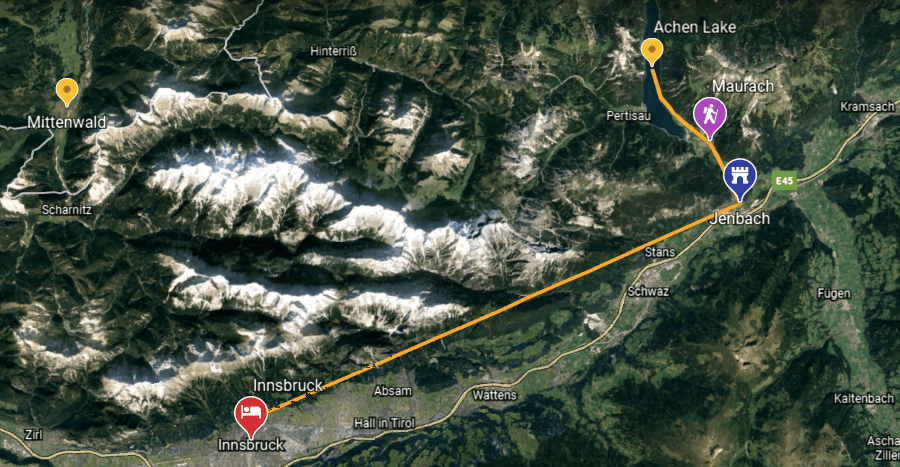 The day has started
"As we all have Eurorail passes, we don't need to pay anything extra for the train journey to Jenbach." said Ravi with a smile while Kanchan, Sara and Meghna were busy clicking selfies at the bus stop. "Jenbach is about 30 kilometers from Innsbruck. We shall disembark at Jenbach and catch the toy train from there to Achensee." he checked the notes on his phone.
I opened the wiki and checked out Maurach once more. We are in Tyrol state of Austria and Innsbruck is the capital of Tyrol. Maurach, Achensee and Jenbach all fall within the state boundaries and are quite accessible. Infact, many locals and tourists use road vehicles to commute to Jenbach or Achensee. Maurach is perched just 8 kilometers before Achensee and that's where we planned to alight the cog rail and take the elevator cable (called Rofanbahn) to the Alps. Our plan was to hang out at Maurach till the afternoon and then retrace our steps back to Innsbruck the way we came.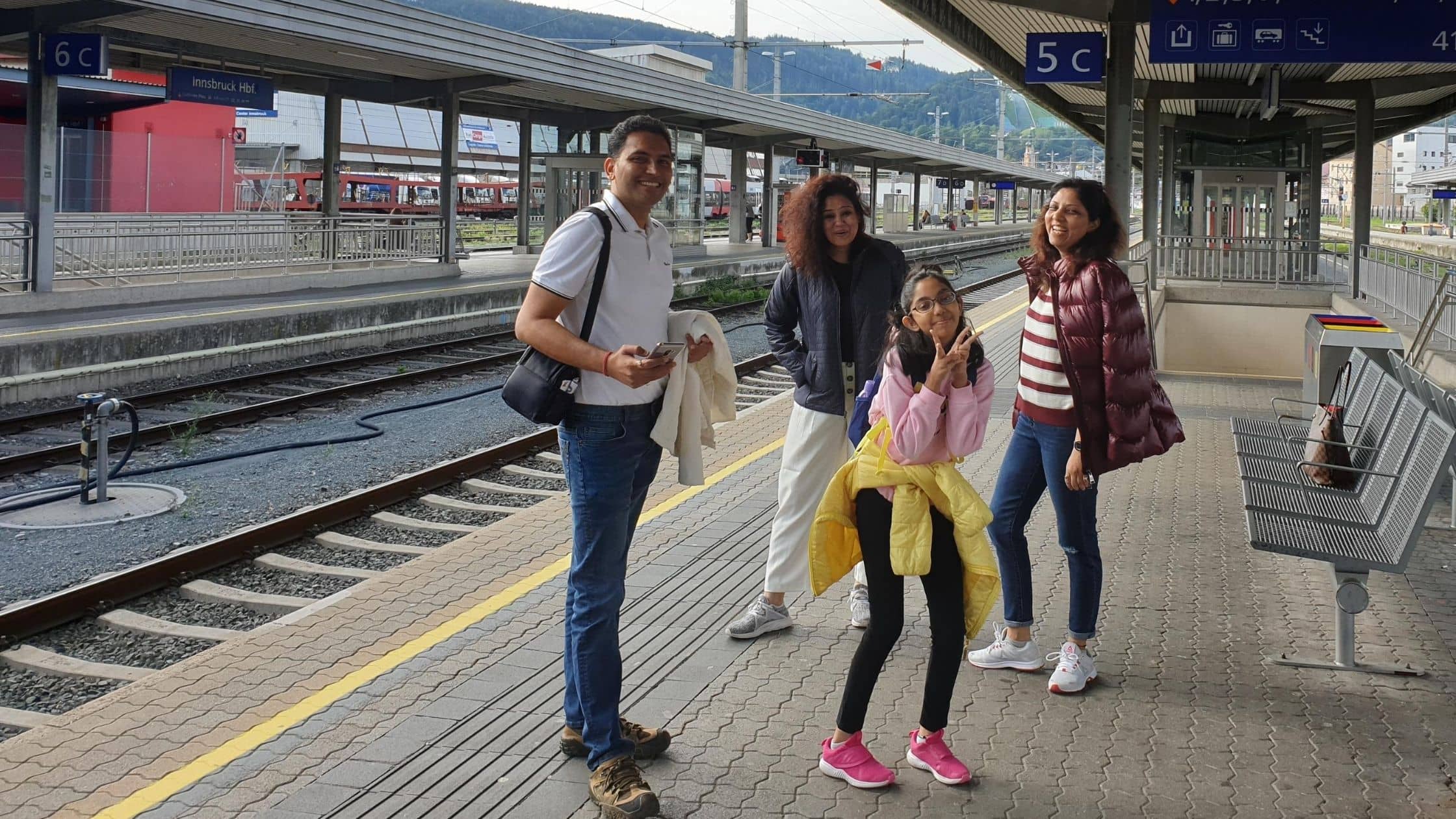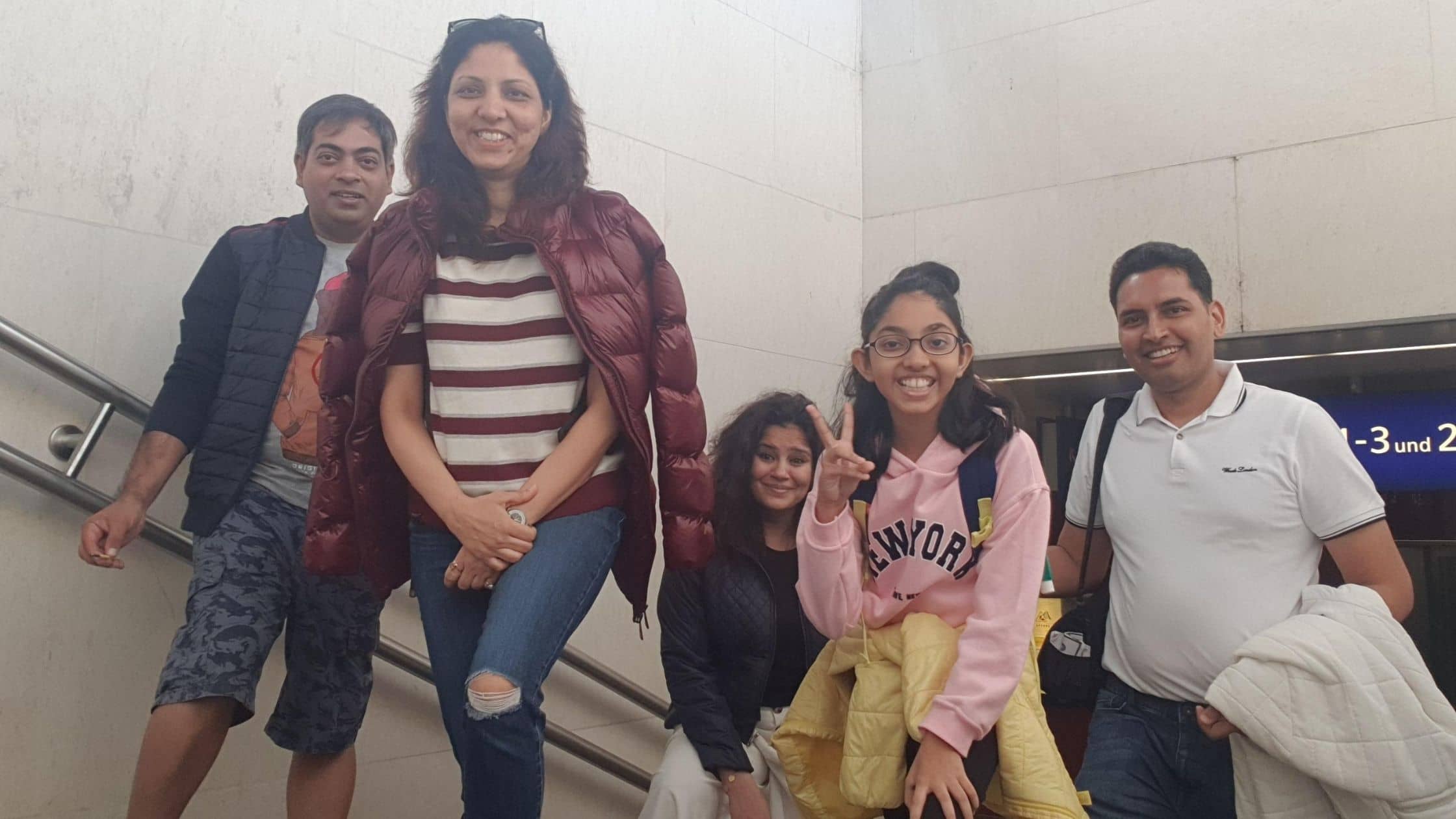 At Innsbruck Hauptbahnof
Now that selfies have been clicked and the hauptbahnof complex has been explored, it was finally time to board the train at platform 5C. Navigating your way within the station is quite easy – even though the directions given on sign boards are mostly in German. It is really easy to figure your way out once you get the hang of it – and that doesn't take long. It was only our second day in Austria and we were already quite well versed with the signages. Credit goes firstly to Ravi and his research and then to EU for standardizing their signages.
The train arrived sharp on time. Eurorail is very punctual, clean and efficient. With everyone on board and comfortable, I set down to write our intended itineraries in the Eurorail passes. A jolly-looking ticket conductor summarily checked the information and handed back the passes with a broad smile. I smiled back and thanked him. Most of the wagon was empty and our conductor seemed to be enjoying a perfect day. Looking at him, it somehow felt like we would have a perfect day too. As the day progressed, I realized how that feeling was so infectious.
Jenbach on the way to Maurach
Jenbach is probably pronounced as "Yen-baakh" and people of Jenbach are known as Jenbachers. It is a small, beautiful municipal town with a number of manufacturing facilities – mainly in the automobile sector. The scenic beauty is marvelous and as we were early, our waiting time for the toy train was a good opportunity to explore the area near the Jenbach station.
The station souvenir shop at Jenbach
A young Bavarian lady at the station souvenir shop helped us with our pre-booked tickets for the cog railway. "It will take the cog train about half an hour to be ready. So by that time you can spend some time taking pictures – the view from behind the bahnof is quite good." People in these parts are very chirpy and good-natured. We bought some coffee and thanked her.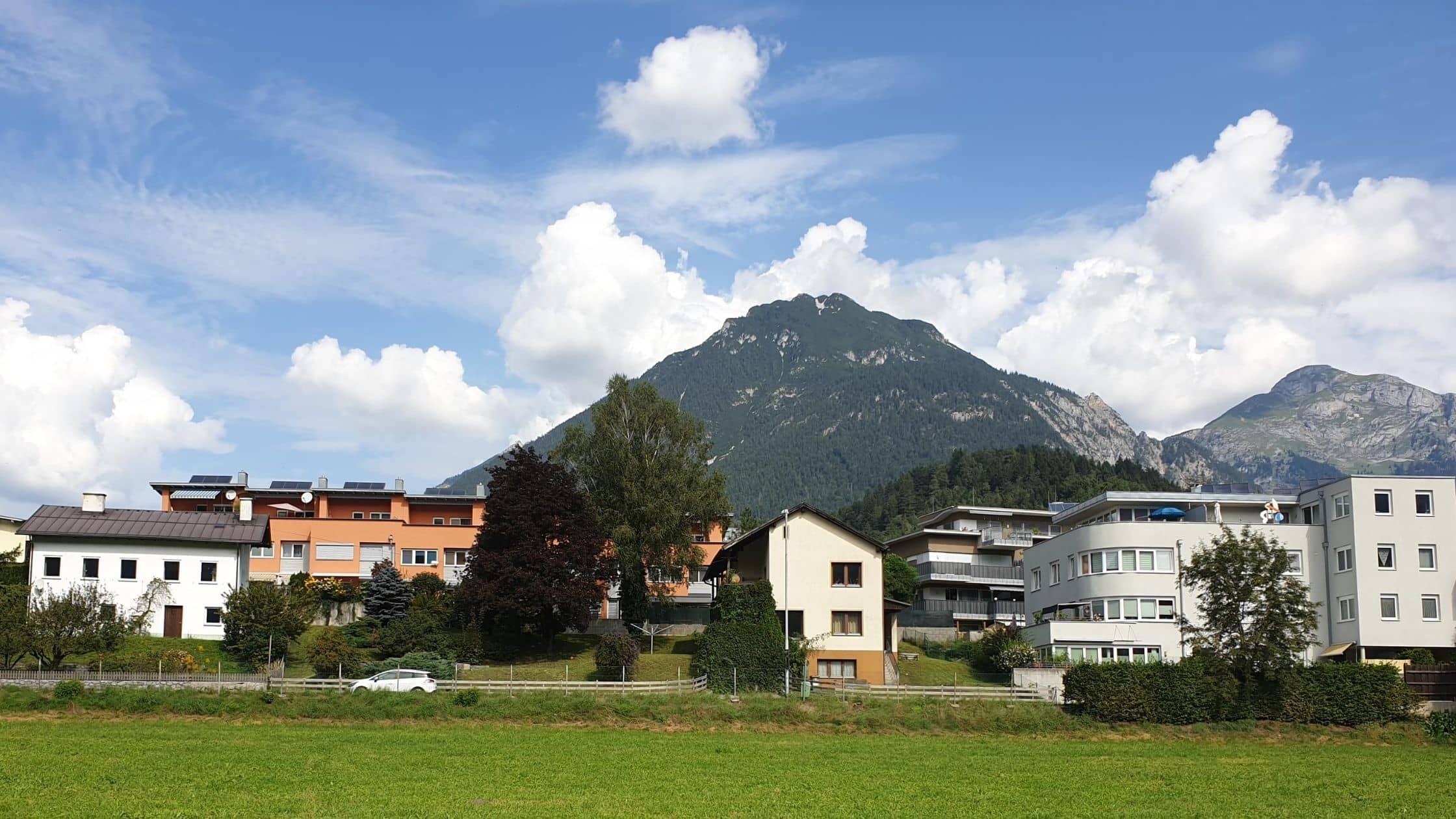 The toy train arrived exactly in half an hour as the helpful lady had told us. There were few tourists and a number of seats were still unoccupied. We chose the seats towards the front to get a good view of the landscape around. As these are open wagons, you can get unobstructed views irrespective of your seats – but sitting in front psychologically gives you an advantage to catch interesting views earlier and to be prepared with the phone camera.
The toy train
For staunch environment-friendly clean-fuel advocates like me, this diesel operated toy train would seem like a huge wastage. It is highly inefficient as it consumes more than one litre of fuel per kilometer. It is slow as it takes about 45 minutes to cover just 17 kilometers. And to top it all up its not even comfortable with little more than wooden planks as seats. Moreover, the smell of burnt deisel is not very inviting to say the least.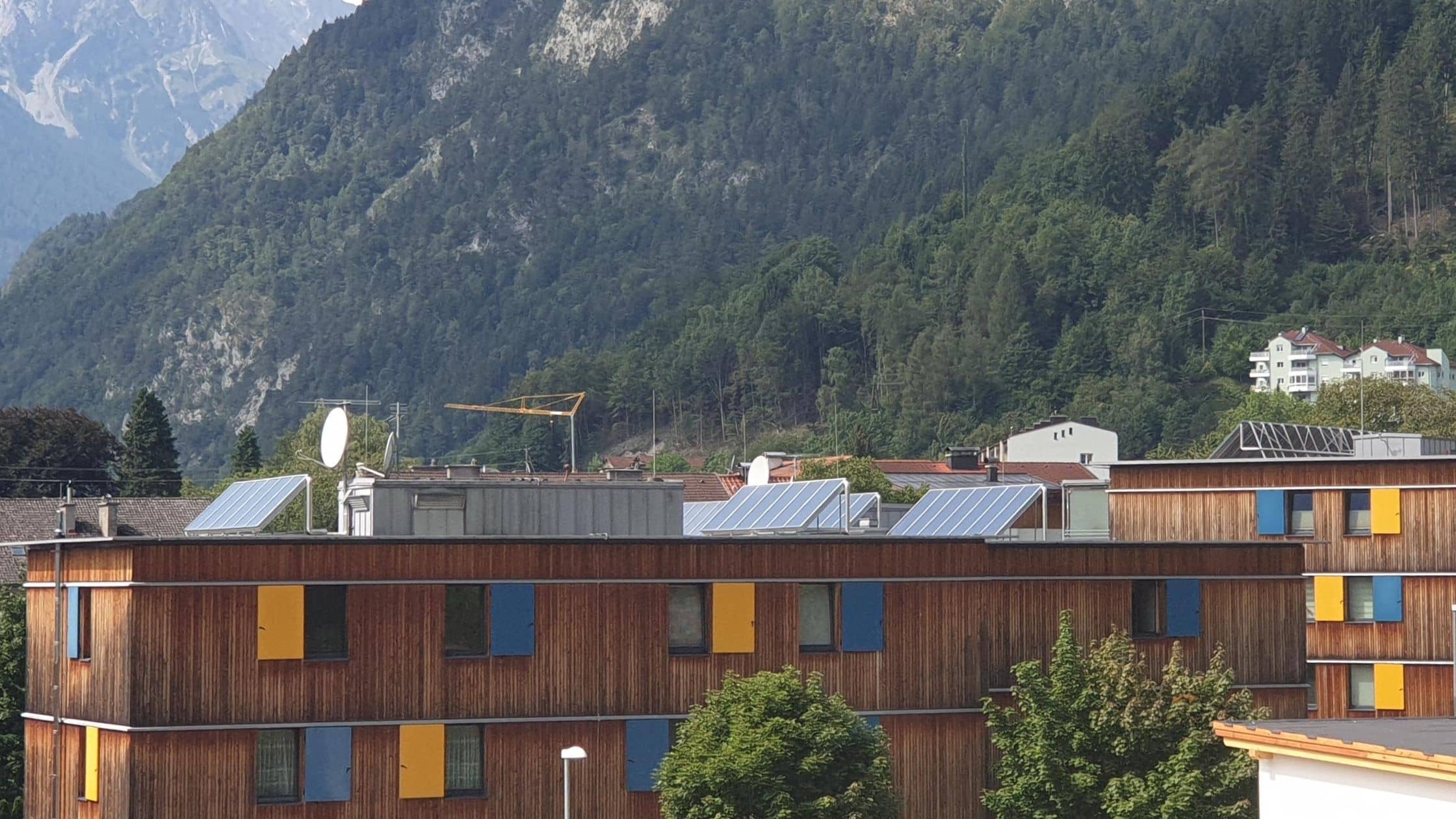 Toy trains are a vestige of the past?
For all its ecological and environmental hazards, the cog railway is still a heritage to be preserved. It is a medieval relic dating back to the 1800s. There are very few sites in the world where such cog trains exist and probably all of them are located in mountainous terrain. This is because cog trains are propelled by heavy steam engines. They require a gradient (slope) to operate properly. The uphill journey is usually slow and somewhat shaky while the downhill journey is much smoother.
I took my place beside Ravi and Sara while Kanchan and Meghna decided to take the seats behind us facing the opposite direction. I am sure we were not very loud but the train conductor might have over-heard us speaking in Hindi. For once he was done dealing with the other passengers, he came back to us. "Are you guys from India?" asked the tall, handsome excitedly. Ravi and I replied in affirmative and quickly the conversation gathered pace and reached the Indian sub-continent.
We met Julian
Julian (name changed) had been to India recently. He had been to Goa, Delhi, Rajasthan and was longing to go back and spend some more time there. "Each night I lie down in bed and dream of being back in India. This time I shall visit the eastern and southern parts." His eyes were twinkling as he spoke with pride about his travels to the east. To Meghna and Kanchan he said, "You are my Didis (sisters in Hindi)."
Julian told us that he would stop the train for us to disembark at Maurach near the cable elevator and to return to the spot by 5 o clock evening to be picked up. We thanked him and said our goodbyes before turning to the awesome time that awaited us in Maurach.
At Maurach
Adjoining the railway tracks was giant field full of fresh green grass. This was the landing area for para-gliders. If you are interested, the Rofan people operate the para-gliding activities and more details are available on their website. I would suggest a full day sojourn in case you are interested in that stuff.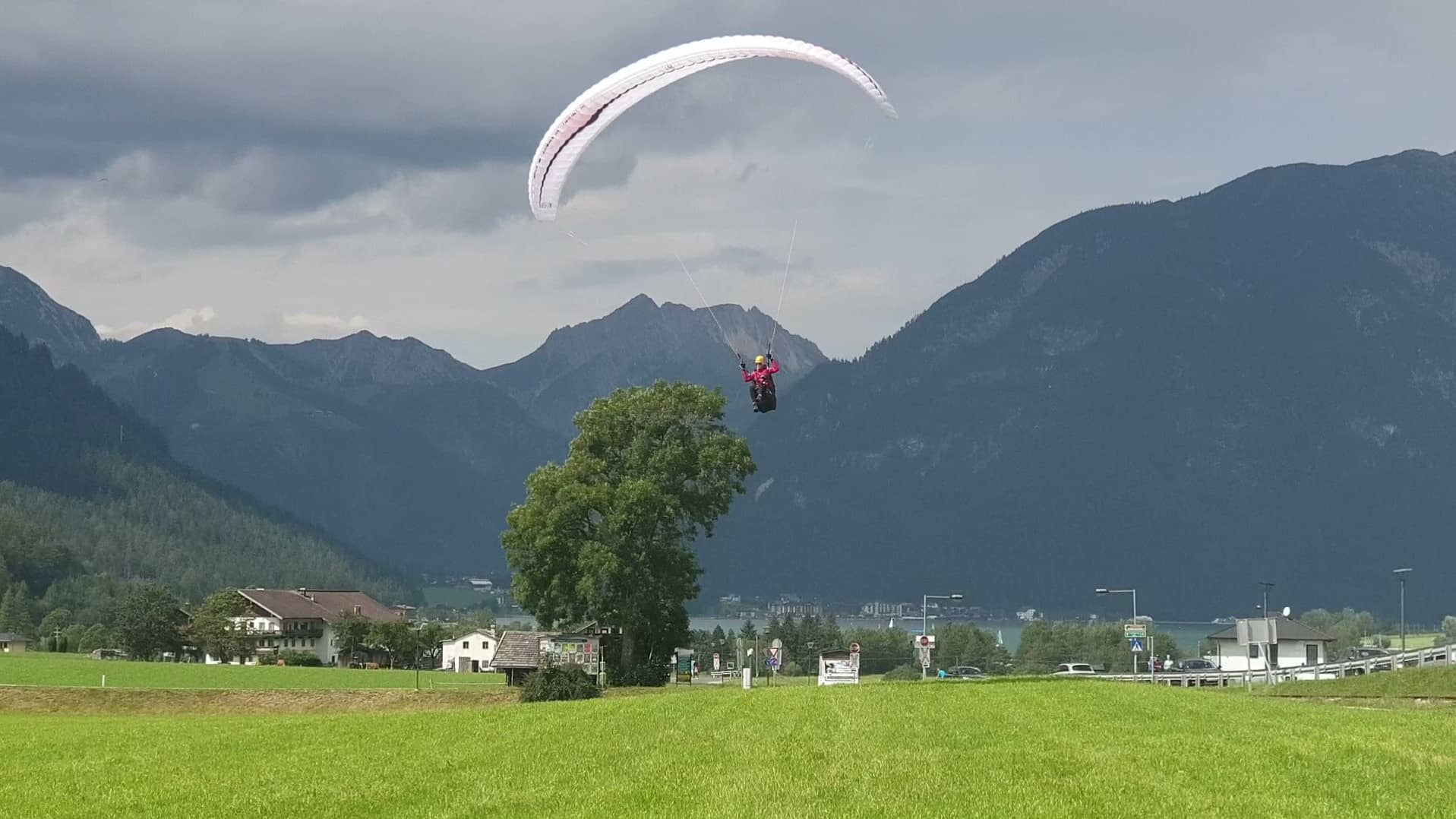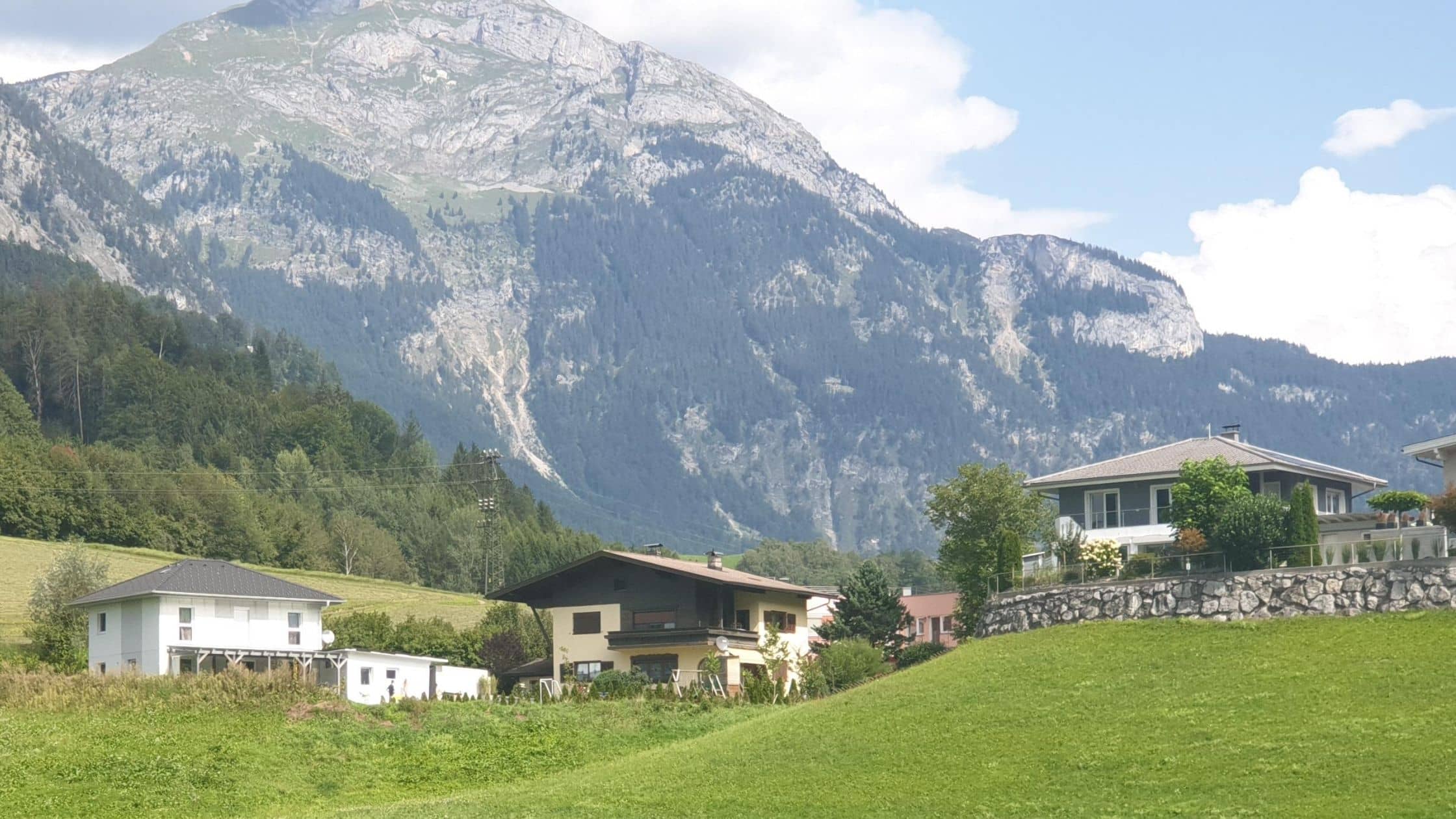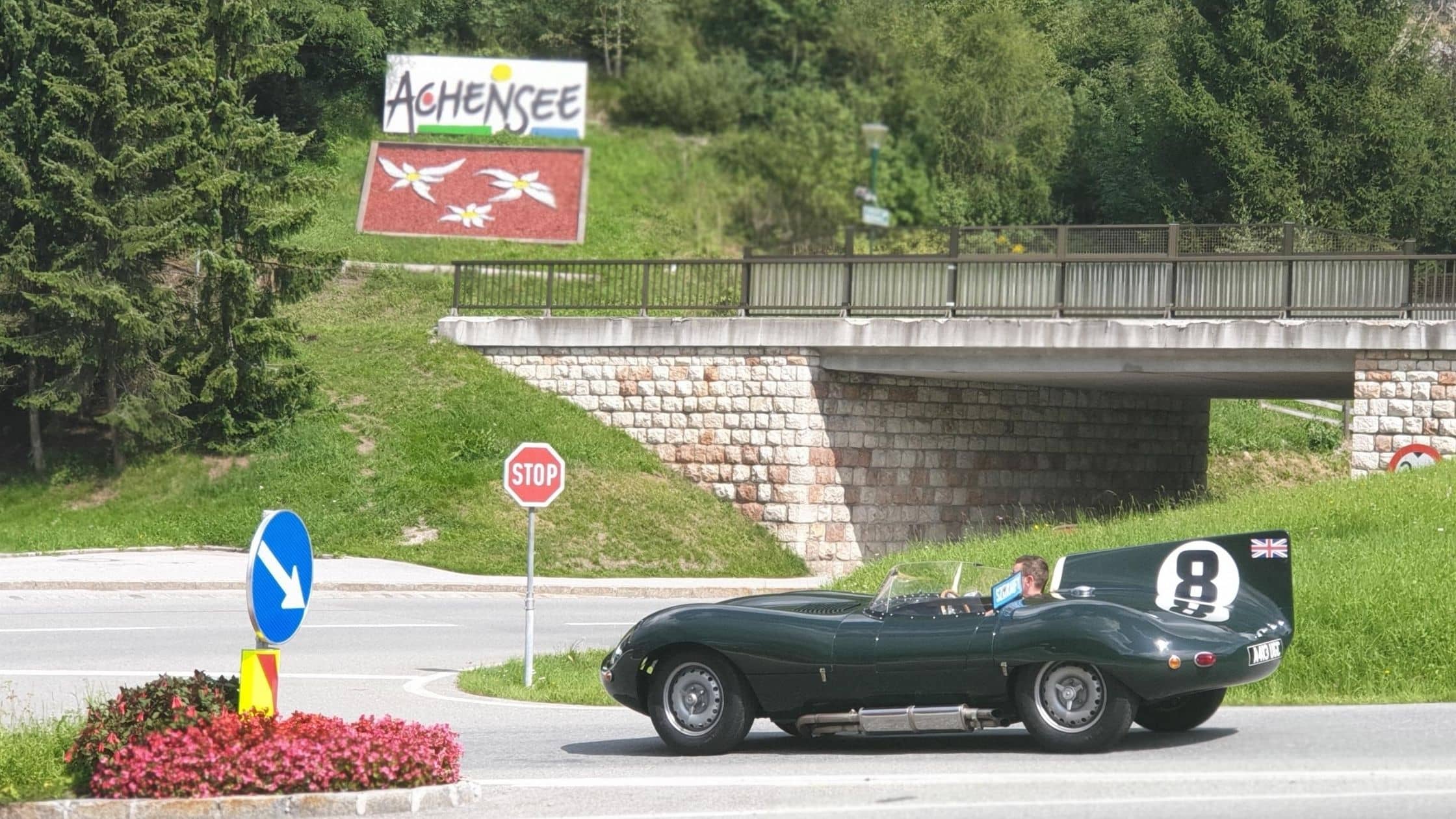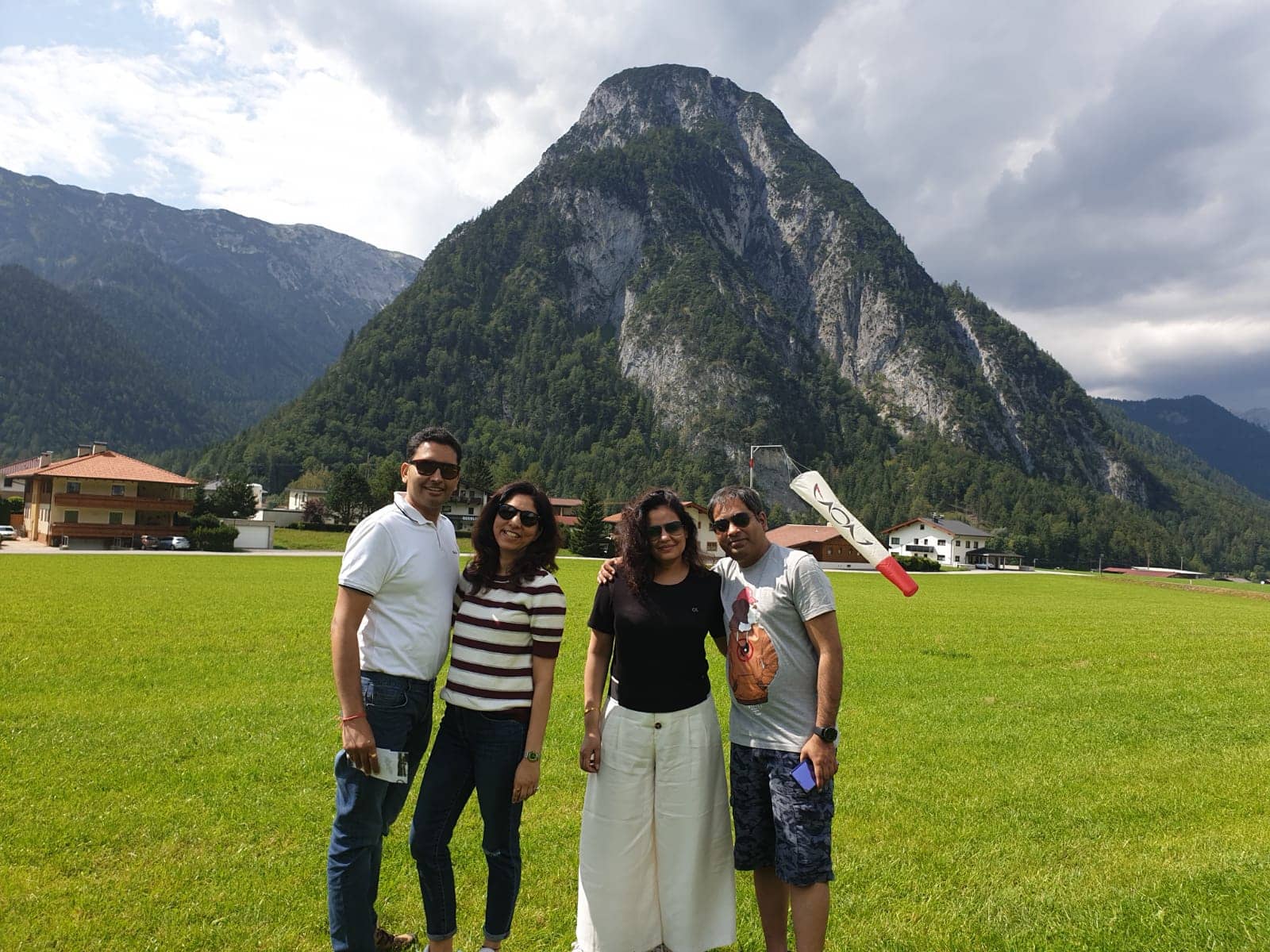 Different people, different interests
Adventure sports such as mountaineering, rock climbing and para-gliding are the main attractions for tourists out here. However, we are more interested in the subtler nuances of life – such as lazing around at natural scenic places, tasting the local brew and chit-chatting with locals and fellow travelers.
We slowly meandered our way towards the Rofanbahn. At first I thought "Rofanbahn" translates to "mountain carriage" but then I found out that the specific mountain we were going to is called Rofan and Karwendel mountain range. These are located in the Brandenberg Alps. In order to reduce the clutter, I have pasted a map for you so that you can get an idea of the surroundings.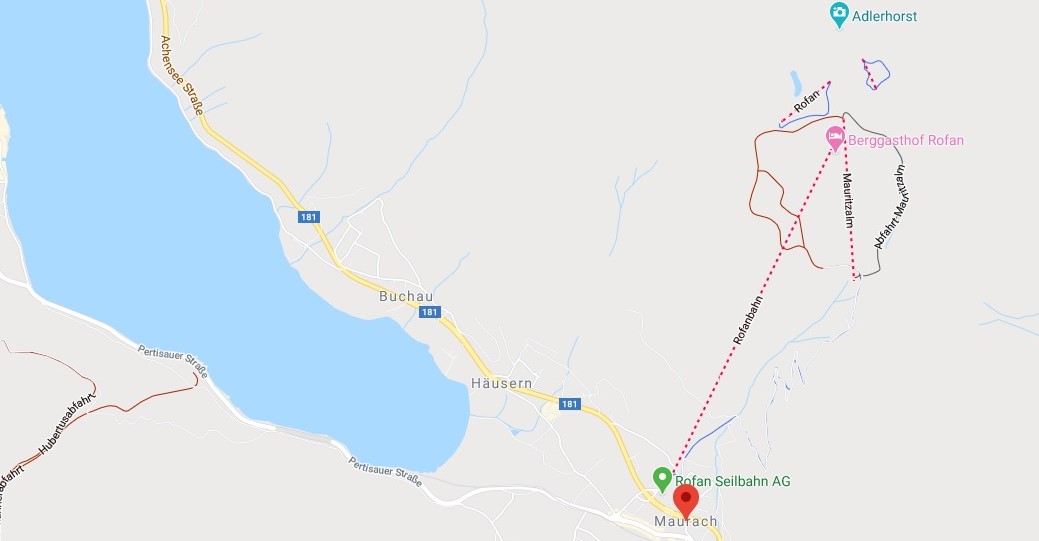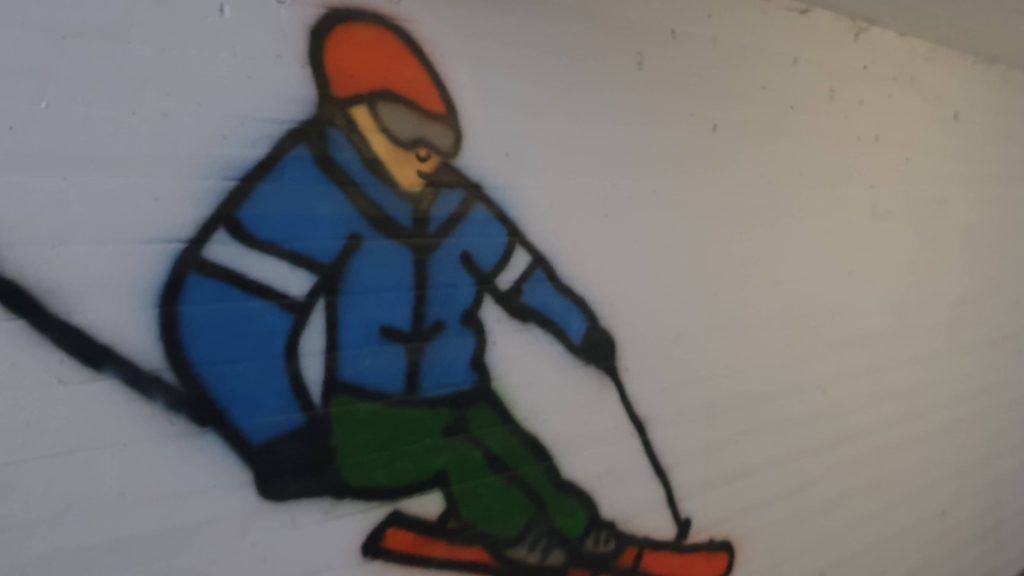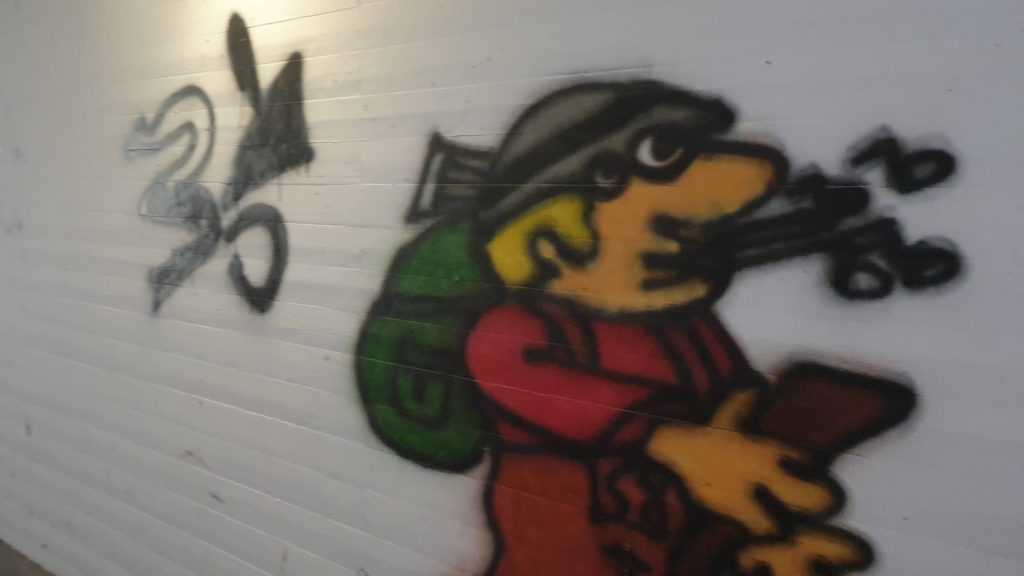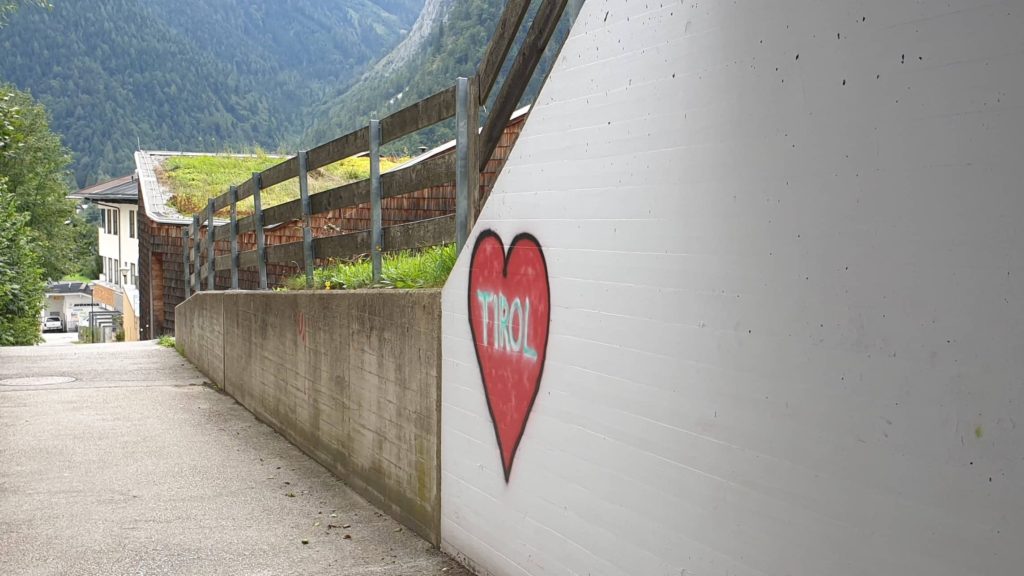 Up, up and away
The subway led us directly to the Rofanbahn start point and before long we were being catapulted up into the air in a carriage car – far away into the mountain. The carriage was entirely made of glass apart from the floor – offering a breath-taking view of the valley below, the Bannwald village and the Achensee. Our co-occupants were a young couple possibly from the middle-east. We exchanged smiles but remained quiet for the entire time as our eyes were transfixed on what lay beyond the glass walls of our carriage.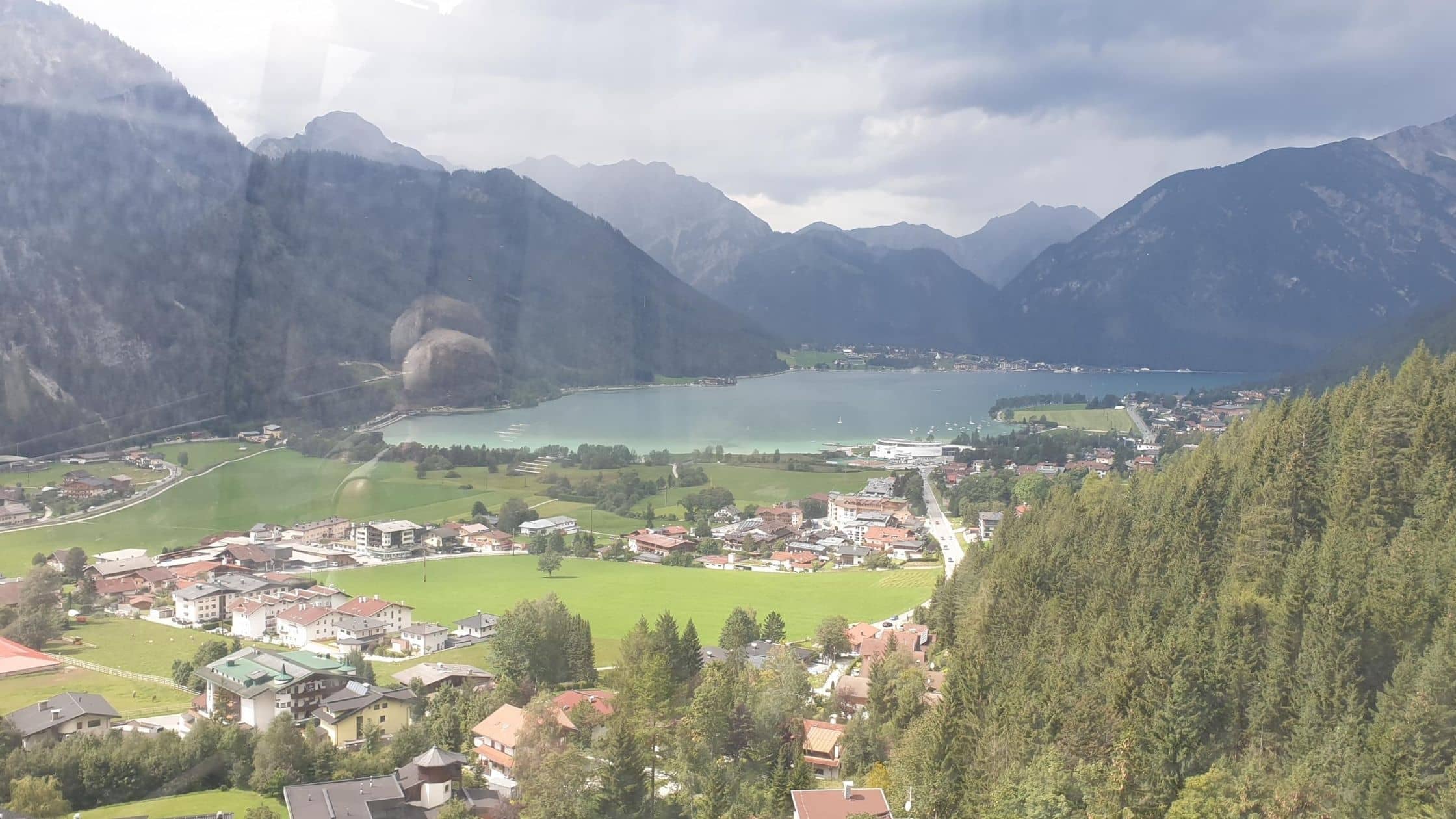 No rain please
As we ascended into the mountains, the air suddenly felt colder and the natural lights felt a bit dimmer. I looked up at the cloudy sky. Weather changes at a drop of a hat in these parts and we were experiencing it first hand out here. The cable car takes about 15 minutes to reach the top and once there, you can roam around and come back later and wait for the ride back.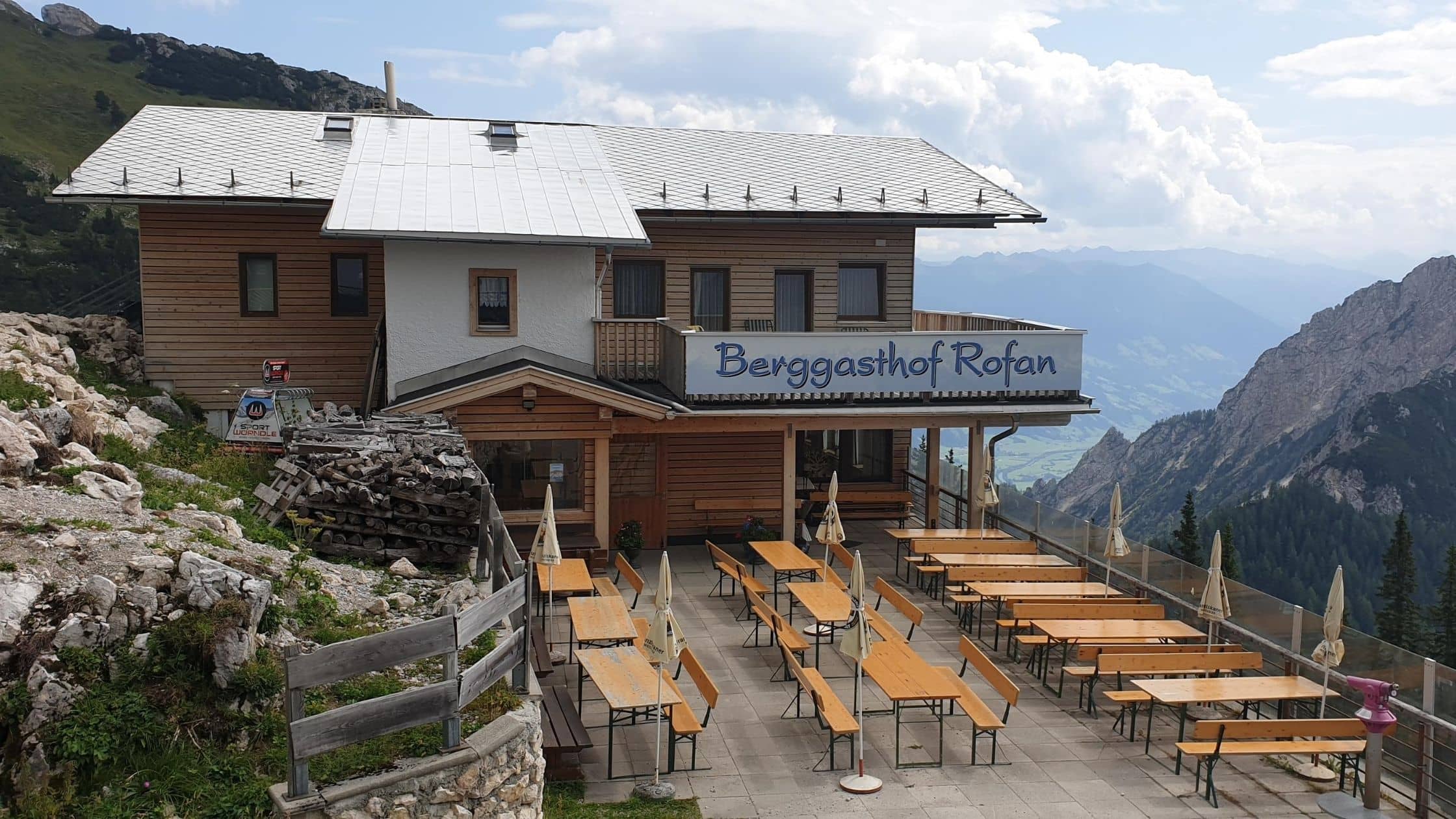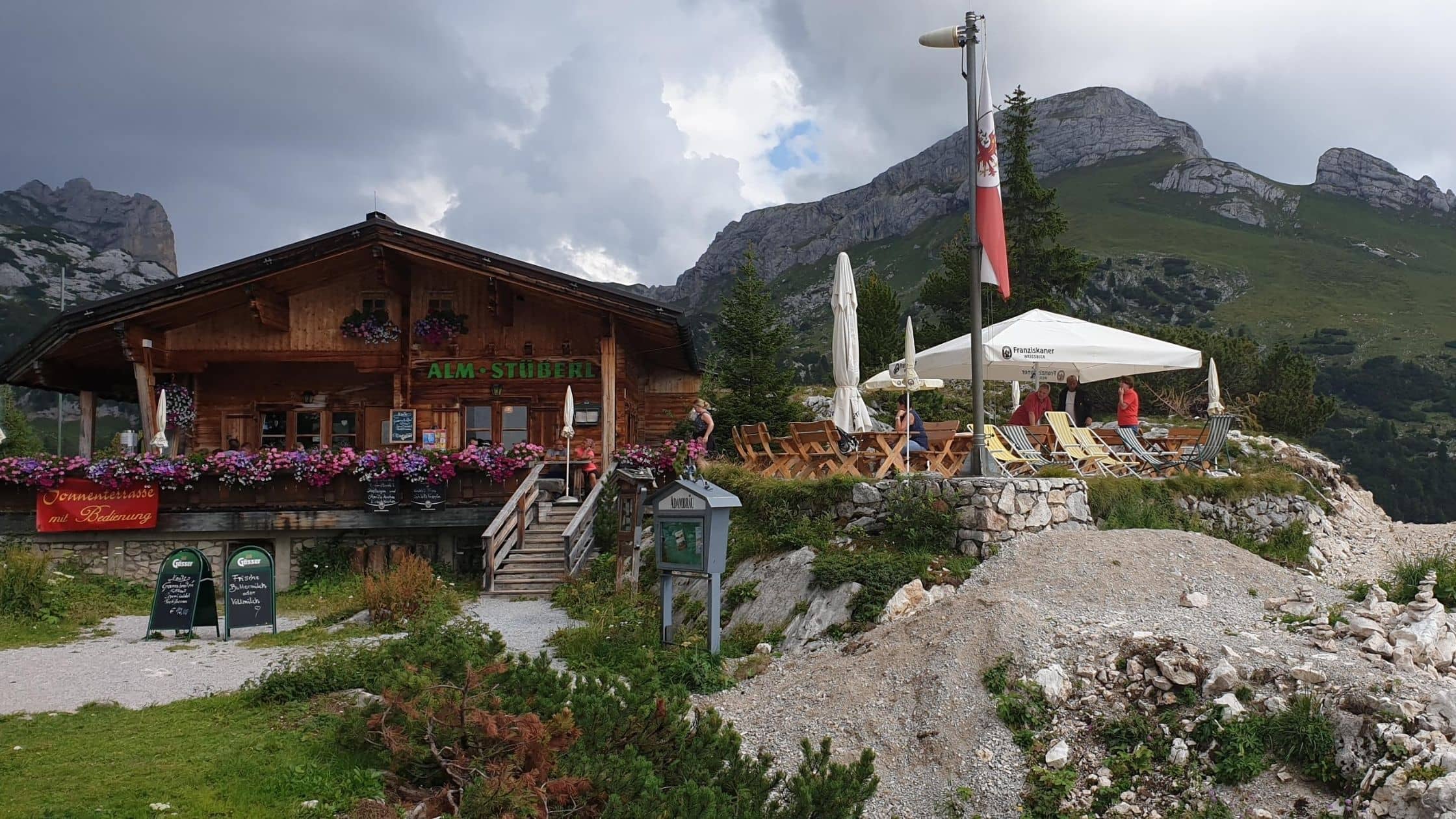 Ravi and Meghna went to consult the signages once more leaving Sara, Kanchan and myself to admire the surroundings. There were many tourists here at the mountain top and most of them were carrying trekking gear. We spoke and exchanged pleasantries with a few people around and learnt that most of them were from either Bavaria or Italy. Some were interested in the rope-way operated by Air Rofan which was about to start soon. The elderly were quietly perched at restaurant seats, waiting for their coffee and reading the news or a book. There was something interesting happening everywhere we looked. Ravi and Meghna were back and without much delay we treaded on the rabbit-path towards the lake.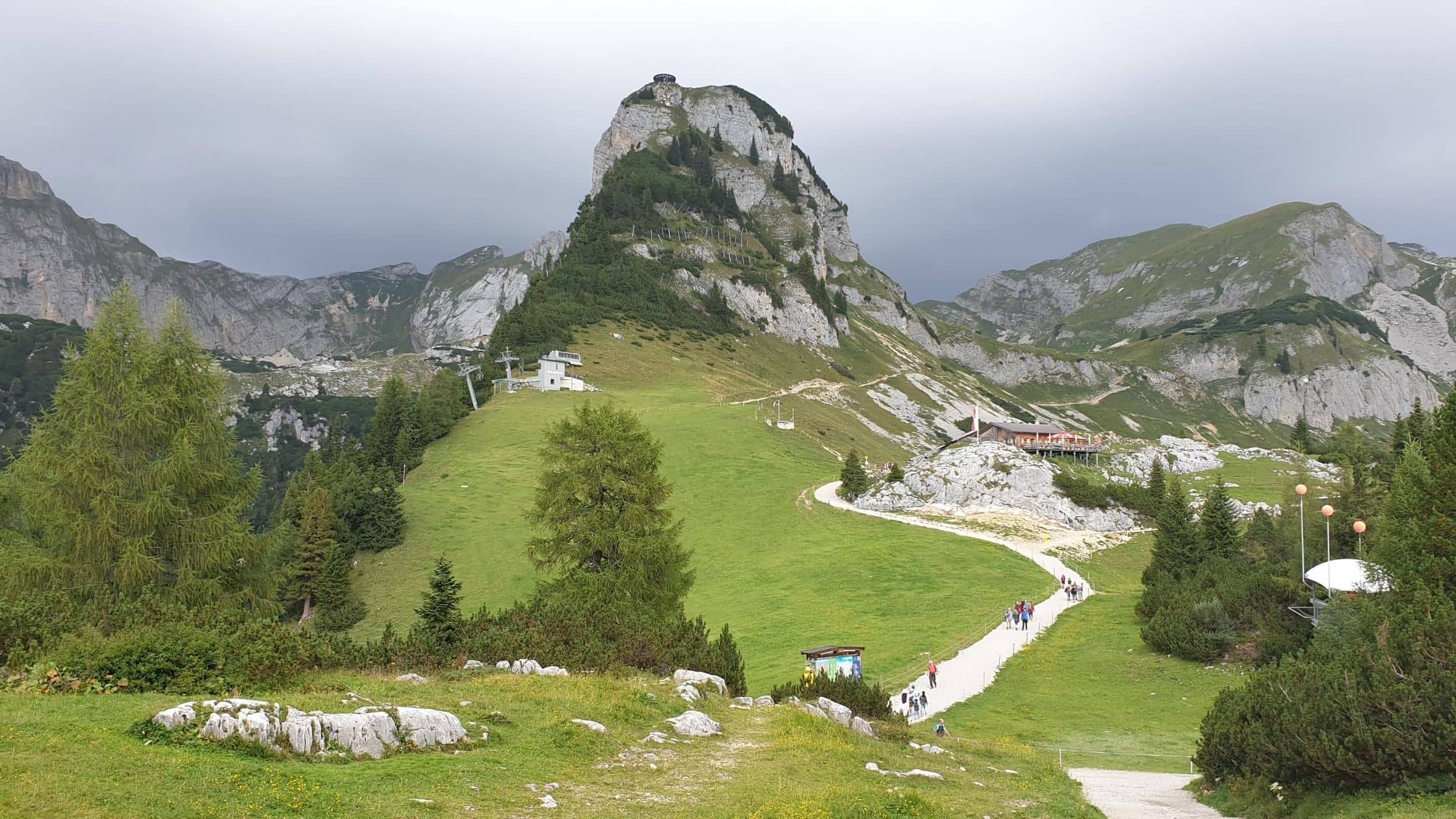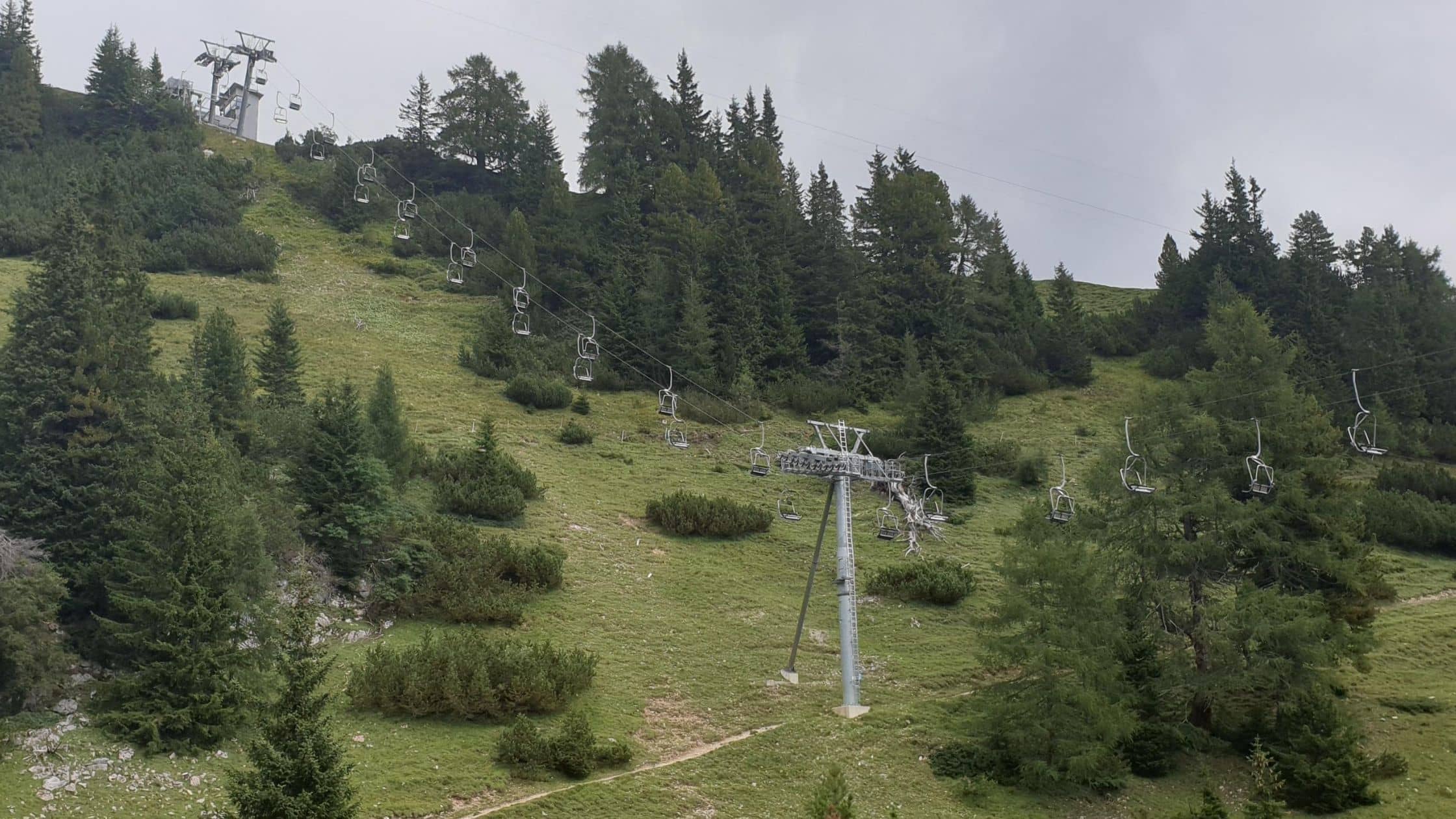 On to the lake
The trail was narrow but without any major obstructions barring a small gate which was wide open anyway. There were very few other tourists who took the direction we took. Most were interested in trekking anyway. Thus taking the path less traveled, we slowly inched toward the lake.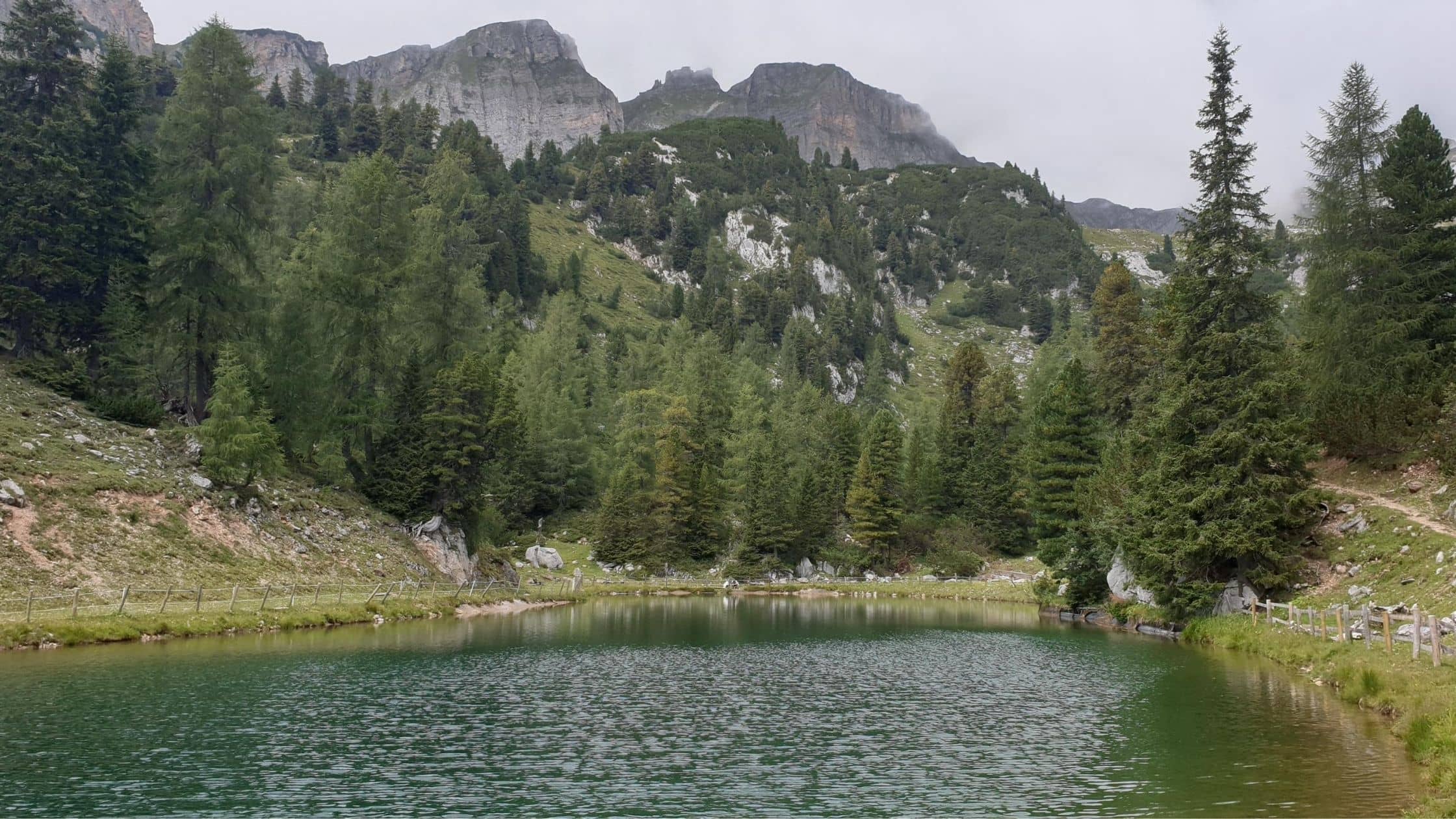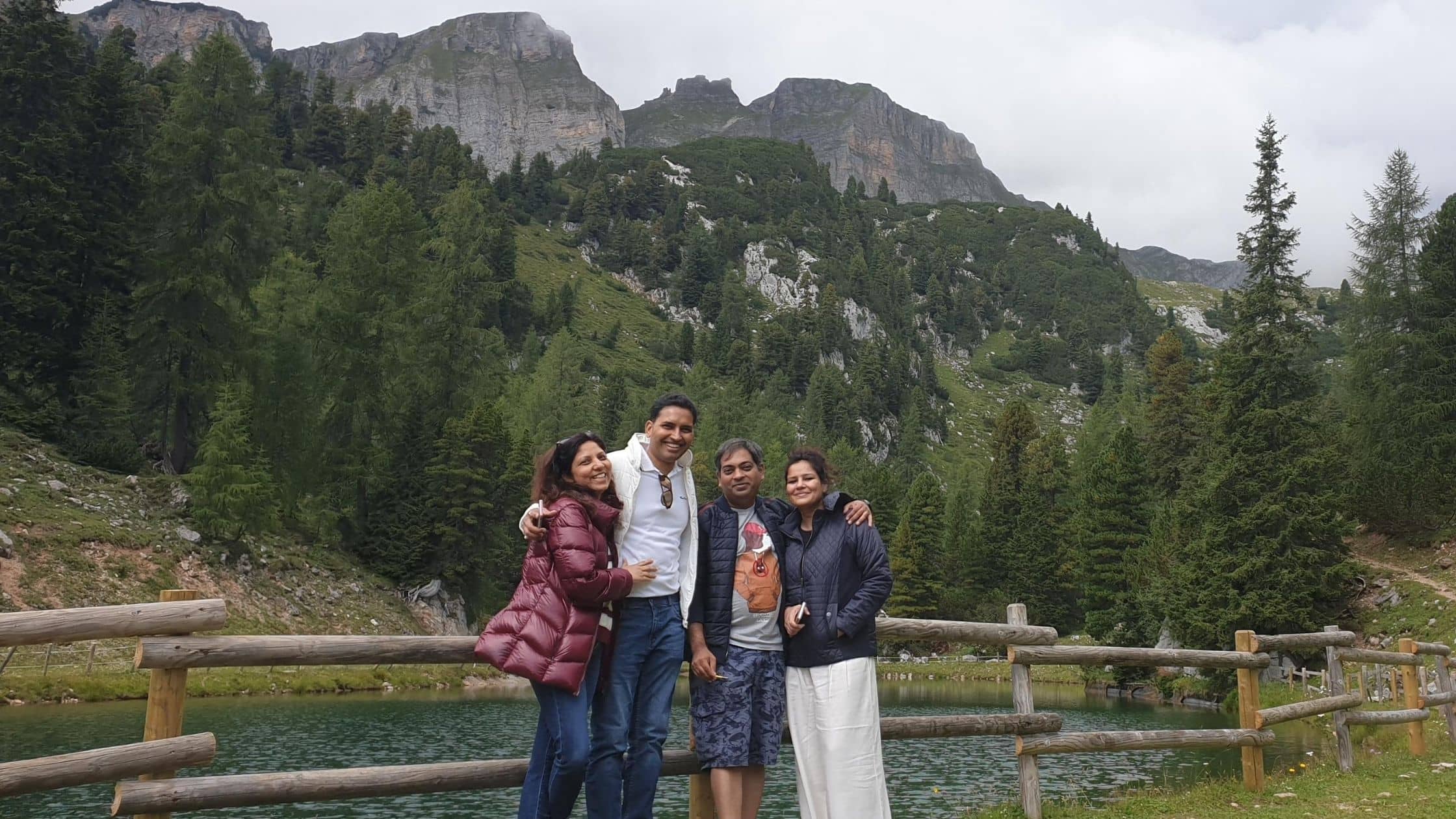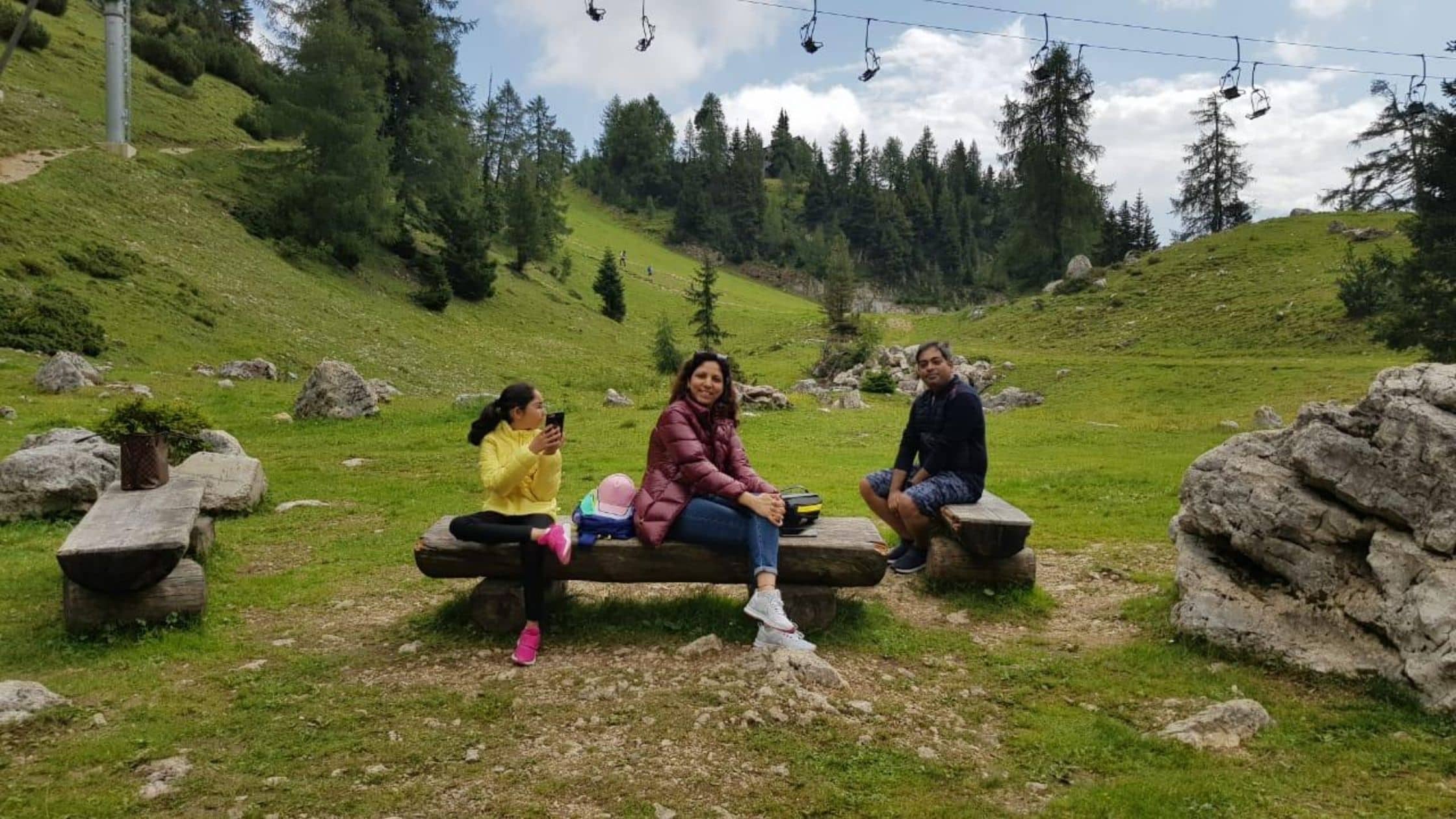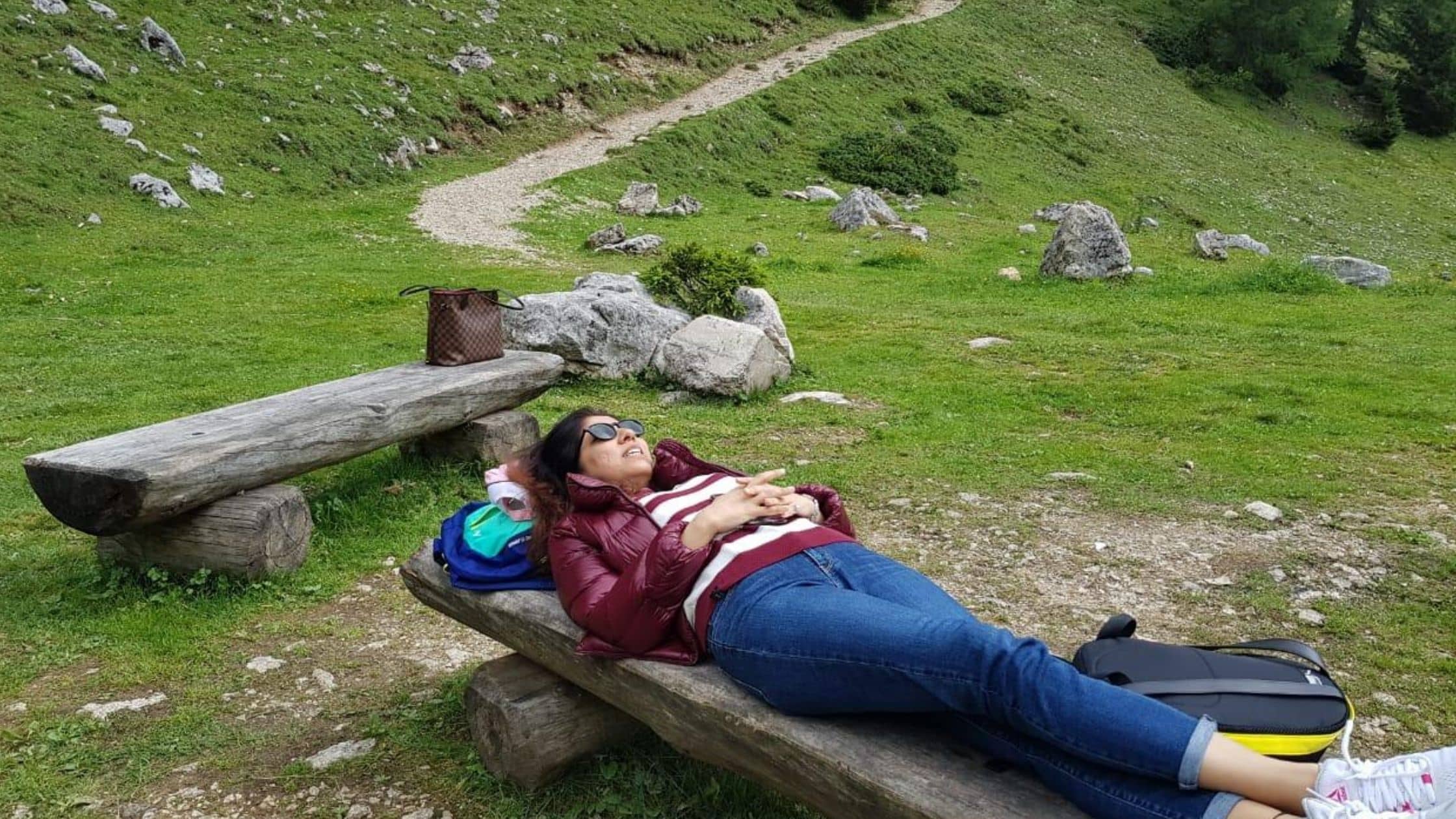 The time we spent at the lake was calming, soothing – some "me time" for everyone. The cool breeze we felt on our cheeks and the calm, steady waters of the lake provided me some incentive to ponder – life's goals, relationship with friends, a recap of life and some wishes. Time flew by like a frisbee and before we knew it, it was 2:30 already. Everyone was hungry and I suggested sitting with a cuppa at Alm Stüberl.
Lunch at the Stüberl
We spent around an hour and a half sipping coffee, beer and hot chocolate with delicious cheese balls, dumplings and chicken wings (Sara's favorite). With our stomachs full and hearts contended, we trudged back to the cable car entrance opposite the Berggasthof Rofan. The descent was uneventful as each one of us was engrossed in their own train of thoughts. I thought of Jullian and his swift maneuvers hopping from one wagon to the other. He liked my country and I liked his. Why can't we be contended with what we have?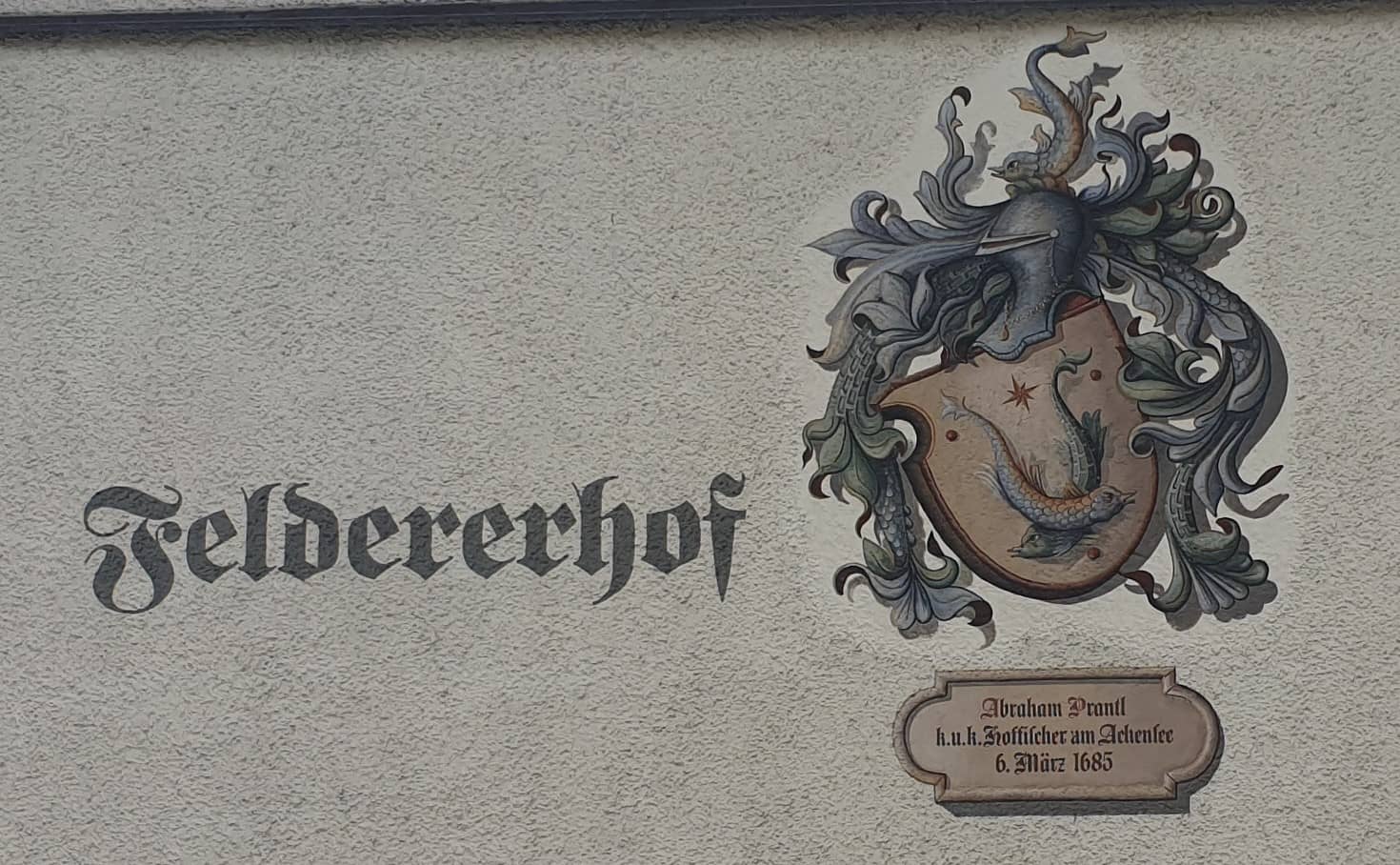 Back in Maurach town
The downward journey was swifter or so it seemed. "We have half an hour till the train arrives. S o lets spend some time around the town." said Ravi and we all agreed. Besides a stroll across a few blocks would do all of us a world of good after that heavy lunch.
Life in Maurach
Most of the houses and guest accommodations are beautifully decorated with colorful flowers and calligraphy. We passed by a beautiful cafe restaurant at the edge of the street, caressed gracefully by the hill behind it. The bushy flowers carefully lined on its balcony and windows provided a colorful contrast. A large 2-storey house with a lawn and well maintained, clean porch caught my eye. Someday I would love to live in such a house in measured recluse. 
The next plot of land was a grazing ground for cattle. People in this part of the world don't worship their cattle but certainly keep them well-fed and safe from traffic. Speaking of traffic, there was hardly any, barring a few vehicles at the road intersections. Later in our entire trip, we noted these were the common features of every town in Austria – even the remotest of villages.