Mittenwald is a small village in southern Germany, close to the Austrian border. Its famous Lüftlmalerei paintings make this village look like a scene just out of a fairy-tale book. Mittenwald derives its historical importance from the 14th century cathedral of St. Peter and Paul located at the village center. 
Rains, delays and umbrellas
We were excited about visiting Mittenwald even before our trip had started. Online searches we made in the past month showed marvelous images and we were looking forward to the third day of our trip to Austria.
You can understand, therefore, our plight when we woke up to overcast weather in Innsbruck. Ravi had already checked the weather app. Mittenwald too would be facing a sharp drizzle – we may have to delay our start a little. I dialed the reception of our hotel to find out if we could borrow umbrellas for the day. "Of course you can. I will keep 5 umbrellas ready for you. You can collect them before you leave." I thanked Franka, the front office manager for her consideration and excellent service. "Let's get ready and meet for breakfast at 8:00."
At the breakfast table, Kanchan looked outside the glass windows. "Each minute it seems to be raining harder than before." Everyone was visibly upset about the delayed start. It meant we would have to cut back on the time we would spend sightseeing.
The itinerary plan for Mittenwald
After we had settled down for breakfast, Ravi began his pep talk. "Technically Mittenwald is in Germany – but we don't require any other document to visit there as our Schengen visa covers Germany."
"So we will start from the Innsbruck station and cross Seefeld to Mittenwald." he continued. "We will do some sightseeing and grab some lunch in Mittenwald. Time permitting, we would drop in at Seefeld on our way back to Innsbruck for some shopping." he looked at each of our expressions. Ravi is the one practical person one should really have on such occasions. Always rational, terse, and pragmatic.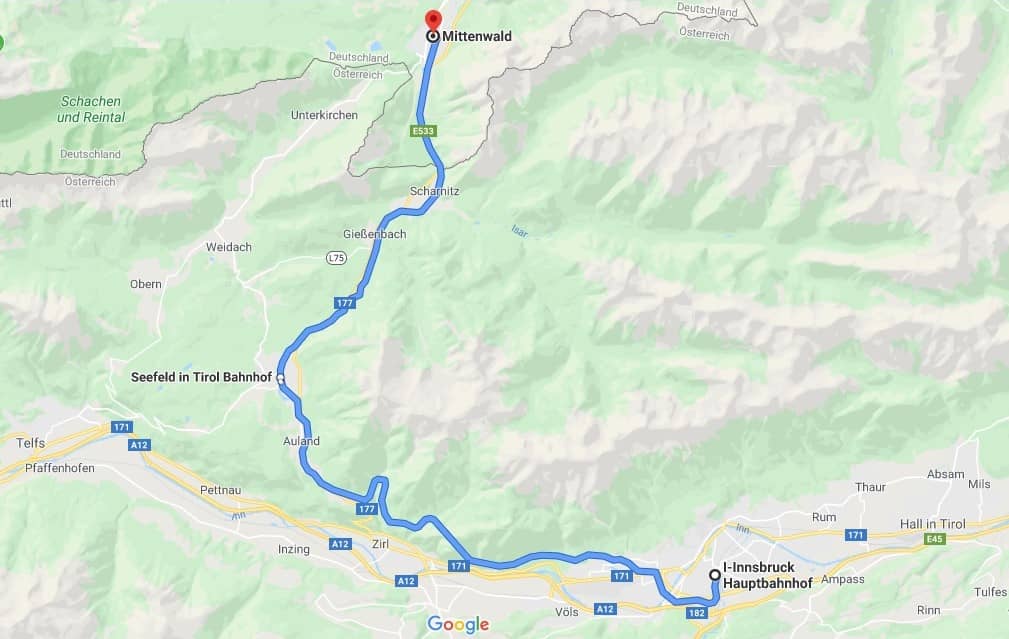 "I got a call from the Pension owners at Zell Am See. They are expecting us at around 8:00 PM." said Ravi. "Which means we need to collect our bags from Trend hotel by say 5:00?" asked Meghna. Ravi nodded in affirmation.
The prospects of our visiting Seefeld looked bleak. Why does it have to rain in the middle of our trip?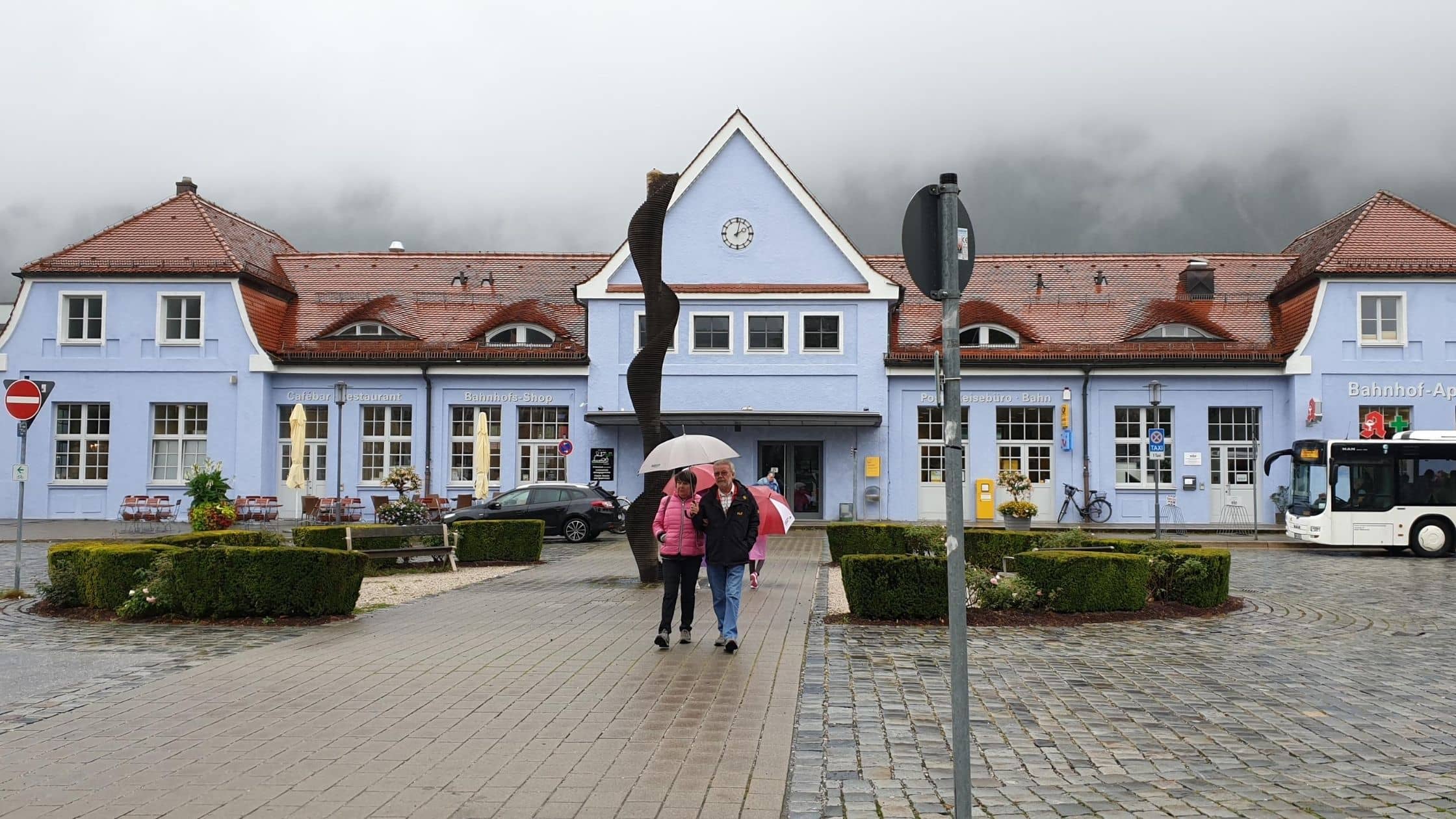 Free coupons and some hope
By 9:30 the heavy downpour had reduced to a drizzle and we hurriedly deposited our bags at the Trend hotel reception. Franka helped us with the loan of umbrellas and we all thanked her again. "You have complementary coupons that you can use at the bar. You can use it now or once you are back." she smiled. That was the second time she had reminded us. Hotel services in these parts are extraordinarily friendly and customer-centric. "Thanks so much, Franka, we will use them in the evening once we come back to collect the luggage."
We hurriedly crossed the street and boarded the bus for Innsbruck Hauptbahnhof. Thankfully there wasn't any traffic that day. Maybe everyone was enjoying the rains from the cosy confines of their homes. We finally managed to catch the 10:30 train to Mittenwald. There was still hope for the fulfillment of our plan.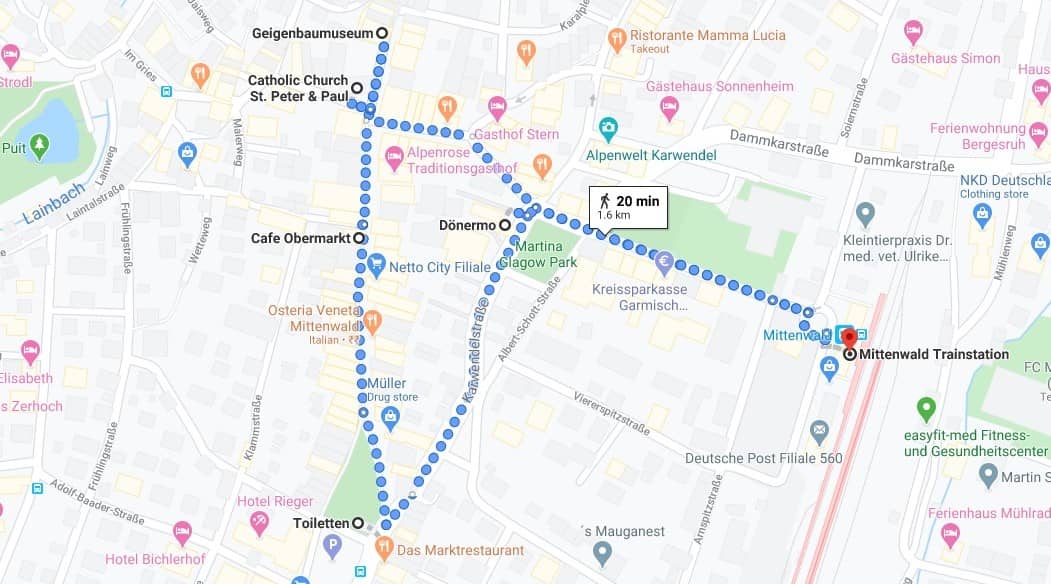 Mittenwald Bahnhof
The 100-year-old train station at Mittenwald is probably the first of the stations in German territory after the train crosses the Austrian border. No additional documents are required to enter Germany, as Ravi had explained earlier. The Schengen visa covers 26 countries, almost all of Europe so you can hop on the Eurail and practically travel anywhere it takes you. Provided you have a valid ticket of course.
It was drizzling as we stepped out on the Bahnhof Platz (square outside the station). Armed with our borrowed umbrellas, we headed out on the Bahnhof Strasse towards the famous Obermarkt near St. Peter and Paul's cathedral.
Saint Peter and Paul's cathedral
The street was wet from the steady drizzle, but everyone around was comfortably walking with their umbrellas raized over their heads to avoid getting drenched. As we walked admiring the wall art (Lüftlmalerei) on both sides of the street, the steeple of Saint Peter and Paul's cathedral was visible in a distance. It is said that this imposing structure has lived the test of time since the 14th century. The church has presided over Mittenwald's iconic Obermarkt ever since. The current incarnation of the church, however, was renovated and re-built in the 18th century.
The frescos and wall paintings are amazing and extraordinarily lively. We were contemplating a visit inside but the service was on and we didn't want to disturb the devotees. Besides, time was short and there were too many attractions to cover. So we turned left towards the Obermarkt Strasse.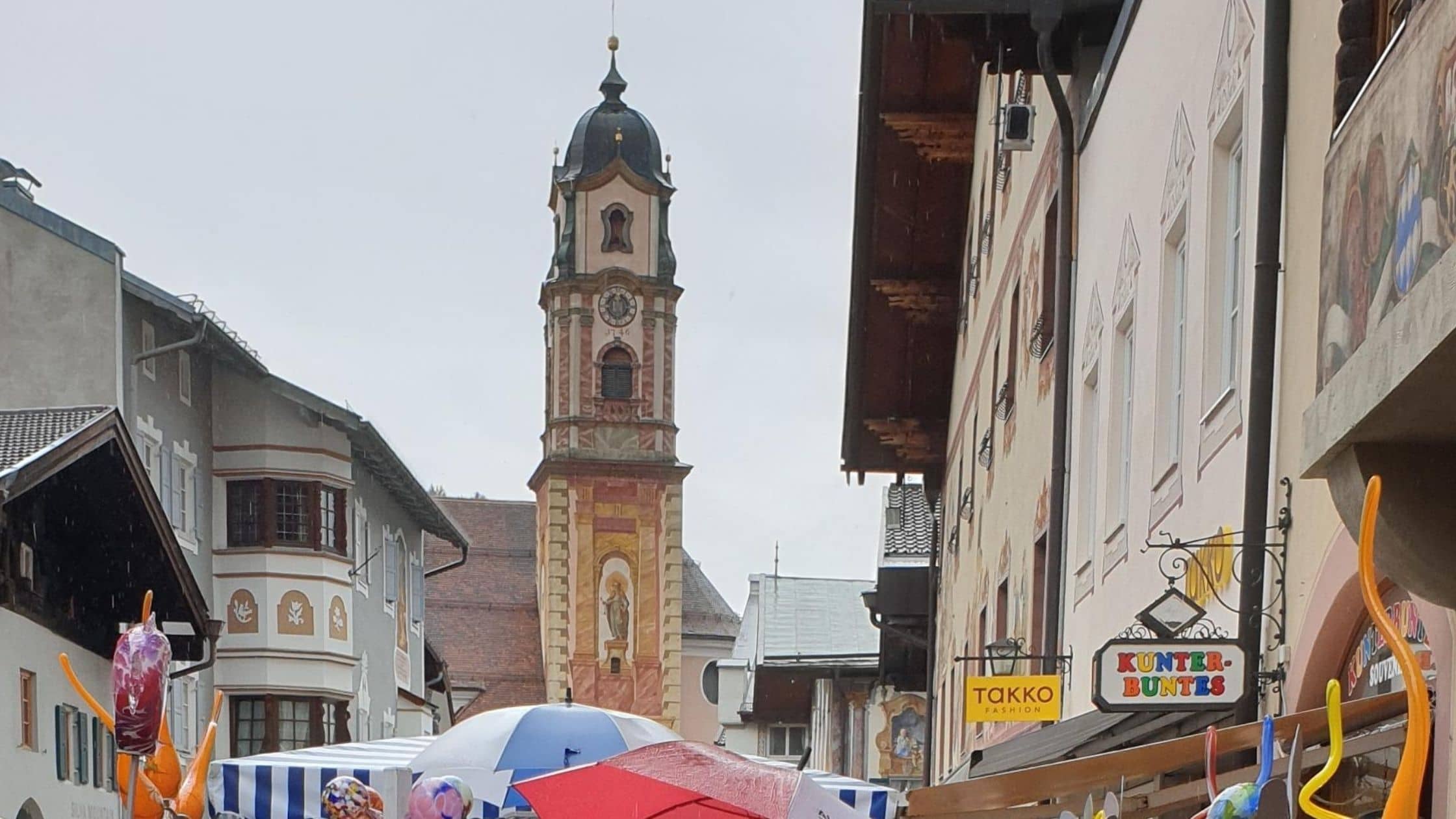 Fairy land
As we made that turn into Obermakt street, a host of colors greeted us. The entire street was oozing of charm and beauty. Parts of the street echoed with the violin concertos of Mozart. We passed by Glaserei Wörnle, an interesting glass shop in Obermarkt. A variety of colorful glass toys were displayed and naturally, children were very attracted to them. Both Sara and Meghna were delighted. There were glass frogs, dragons, elves, rabbits, owls, birds of all sorts, and a thousand other animals straight out of a fairy tale book. There were other shops too – clothes, apparels, shoes – all themed in a seemingly fairytale fashion.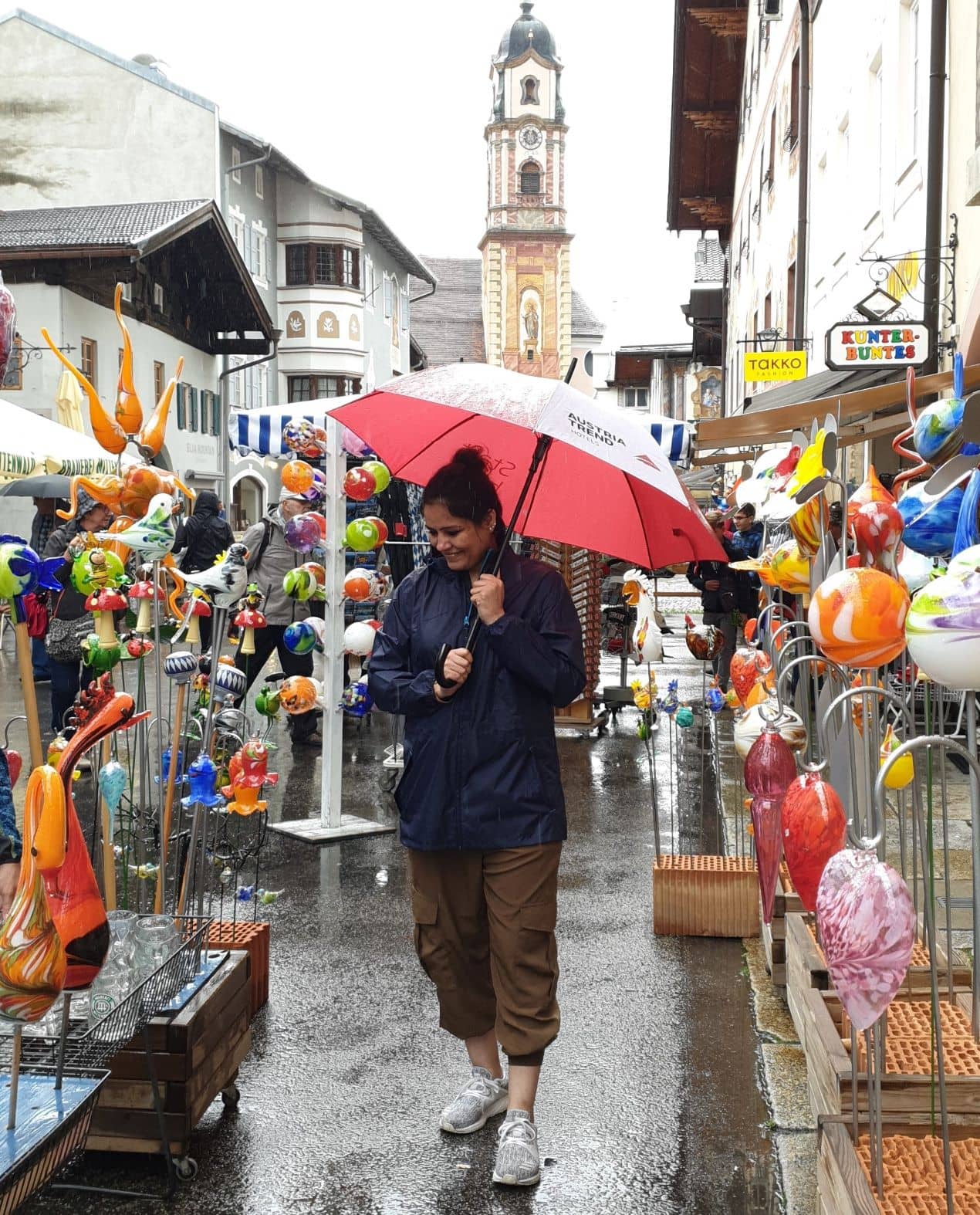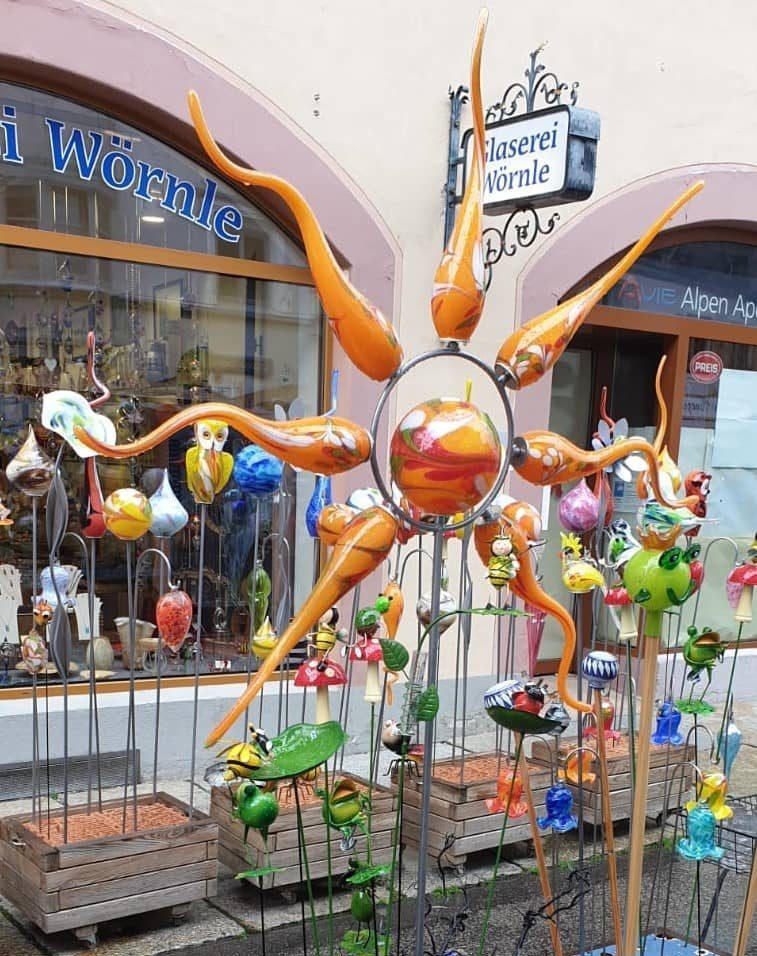 Lüftlmalerei art of Mittenwald
The charm and grandiose of Mittenwald is magnified by Lüftlmalerei wall art all across the small village. It is a kind of mural painting wherein the paintings are affixed on walls with wet plaster. As the plaster dries up, the paintings become seamlessly glued to the wall making them resilient against weather changes. This makes Lüftlmalerei paintings last longer. These exquisite paintings have an impeccable 3-D effect, perfectly crafted with shadows and elevations at the right places.
Some of the paintings show biblical figures. But a vast majority of them depict the Bavarian lifestyle during the medieval period. The protagonists are mainly knights, craftsmen, astronomers, and the whole lot from the middle ages. Very intricate and interesting to observe closely. You will be surprised to learn that some of them are actually more than 200 years old. Meghna and I could go on admiring the paintings for a full day when suddenly someone tugged at us. "Coffee break?" asked Kanchan with a grin.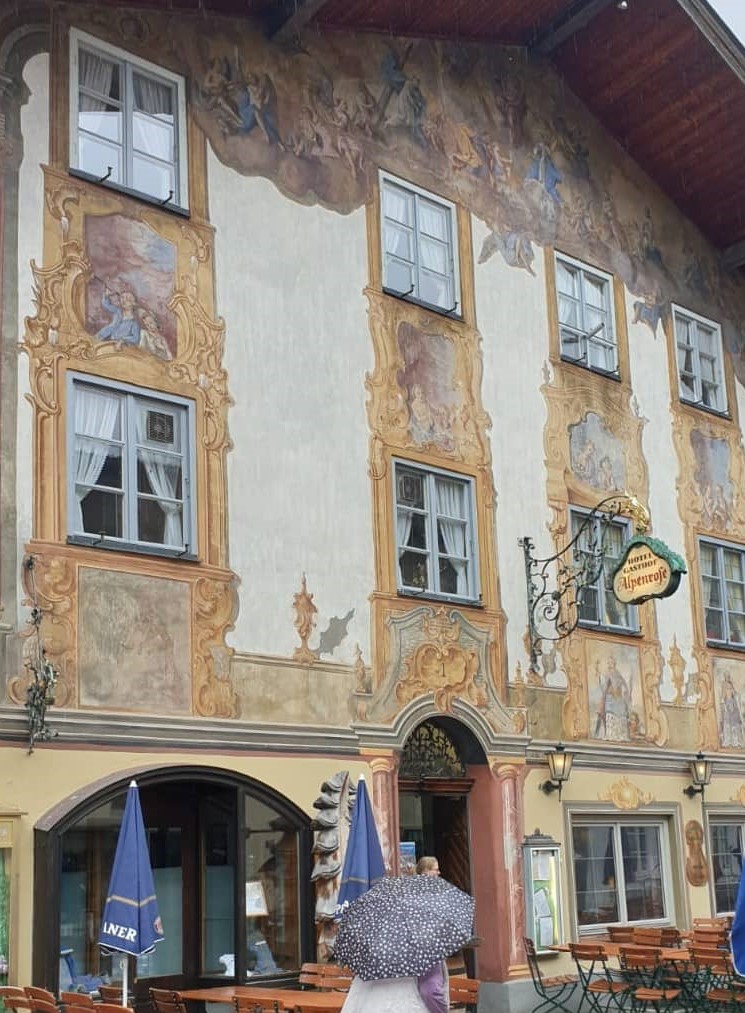 Short break for coffee
For those who are planning a trip anywhere in Europe, I would advise you to indulge profusely in beer, cheese, wine, coffee, and even hot chocolate. This you should be doing frequently at every location possible because each place leaves a different after-taste. Life in these parts is much about good food and a lot of beer – so why not indulge?
In the case of friendly neighborhood Mittenwald, we submitted ourselves to the good facilities of Cafe Bozner. Going by the aroma around that place we knew we couldn't go wrong. Besides I wanted to listen to the entire piece playing that time.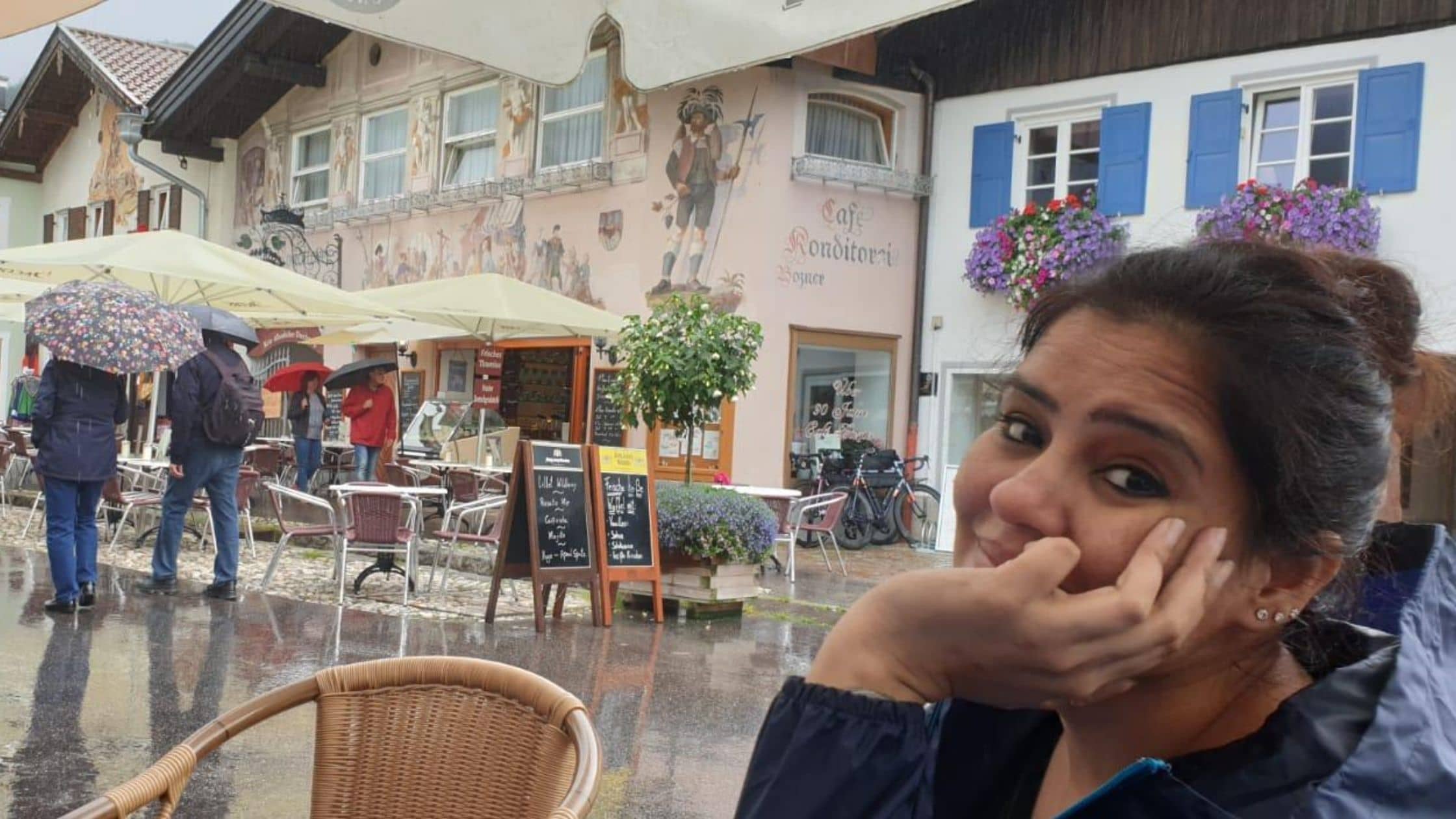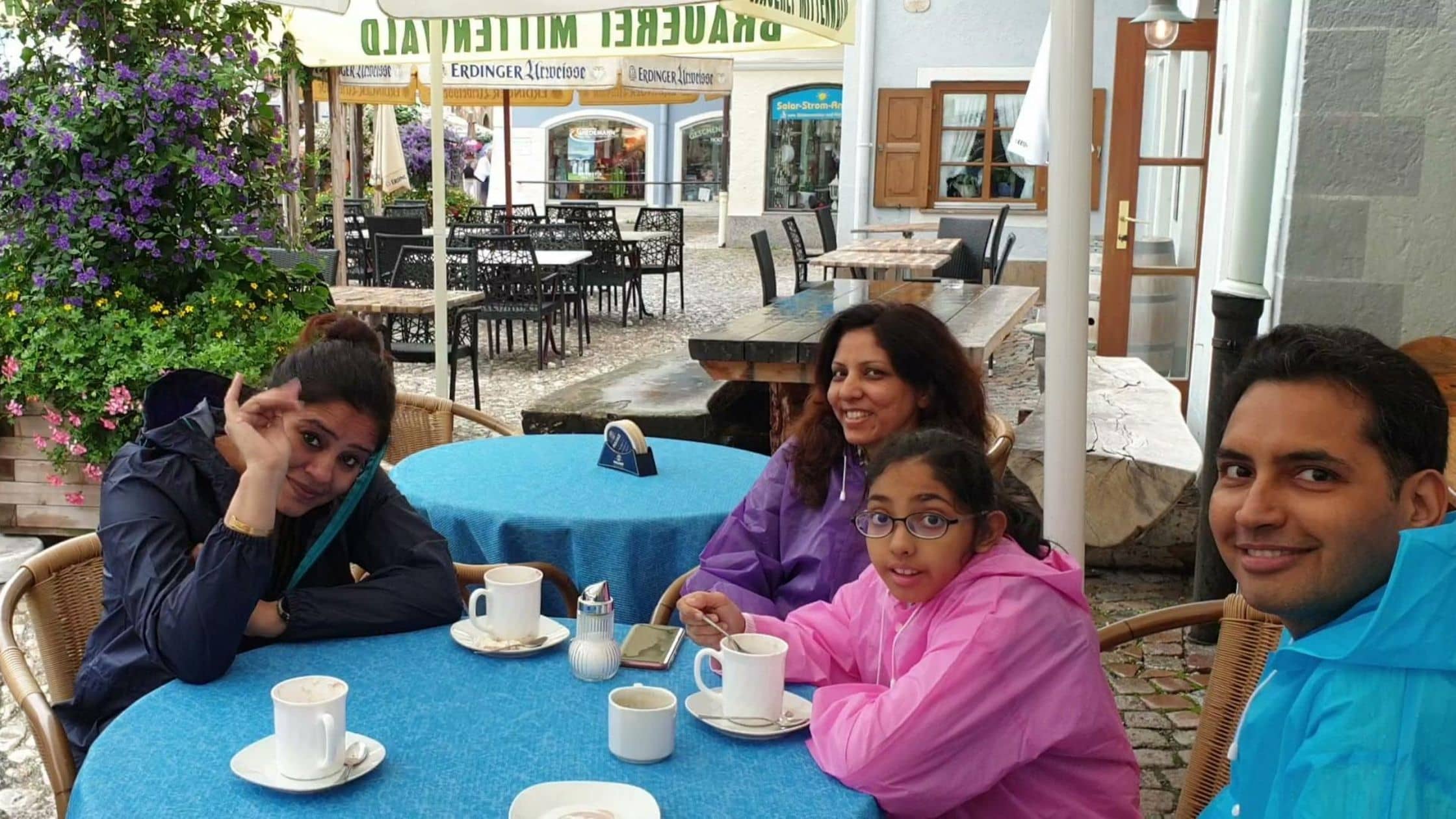 Cute doggies and Gemütlichkeit
I was delighted to find that people in these parts are out and out dog lovers. One out of three people had a leach in hand. The culture of keeping pets immaculately manicured and brushed is ingrained in the Bavarian region and surrounding areas. Later I witnessed the same during our onward trip to Salzburg, Vienna, and Zell Am See.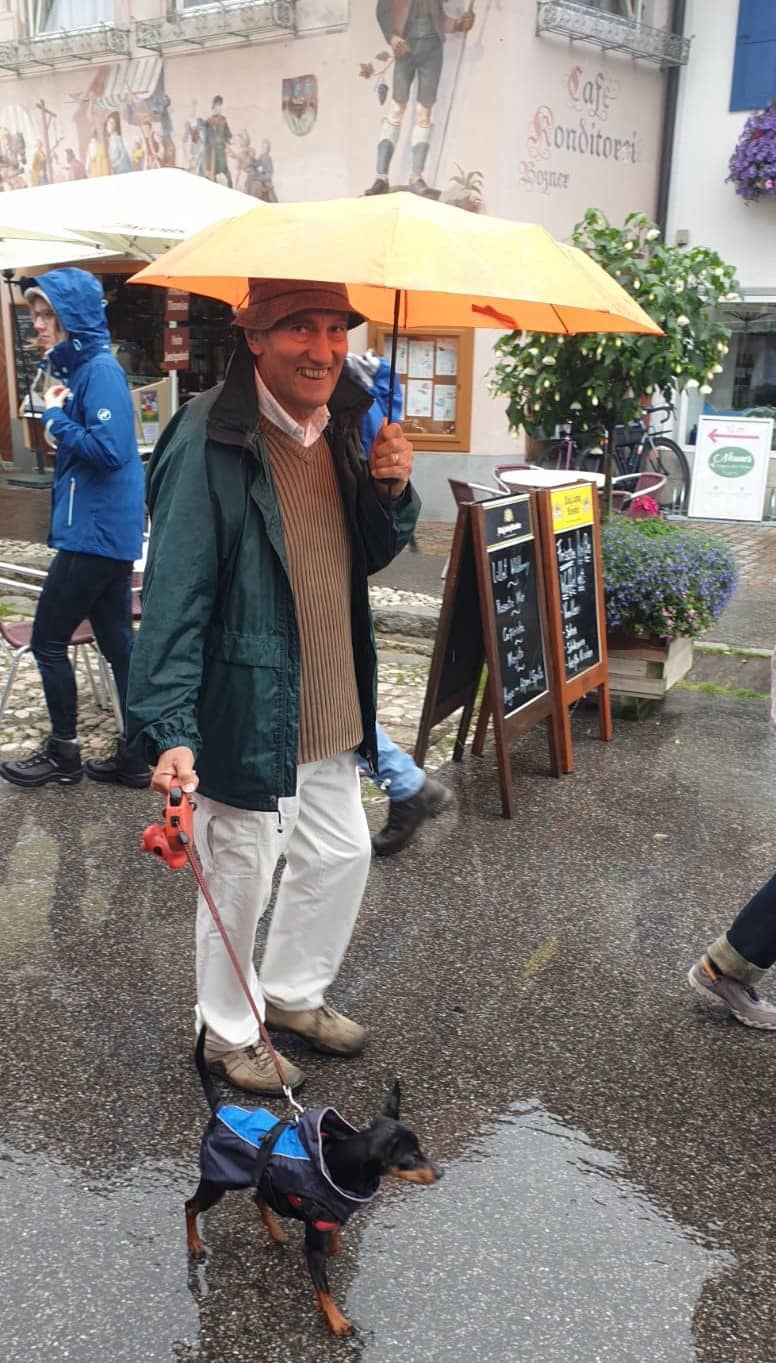 Over coffee, we made some small talk with the extremely polite lady in charge of the services at the cafe. Most people in these parts are comfortable in English with varying degrees of fluency but that hardly posed any problems for us at all. And yes, people are wonderfully polite – unlike what they tell you about Germans. We never came across anybody rude.
"Here in these areas, there is a culture of Gemütlichkeit you know – it means friendliness." She paused, seemingly struggling to find another word, but carried on in her thick German accent. "People love to live a calm, easy-paced life." She looked at each one of us in turn as if about to reveal a secret. "Not like the ones in Berlin !" and she broke into laugher. Kanchan laughed with her for a while so did some of us while. Clearly, none of us got the joke. She didn't expect us to. She was a good soul carrying out her job with a smile.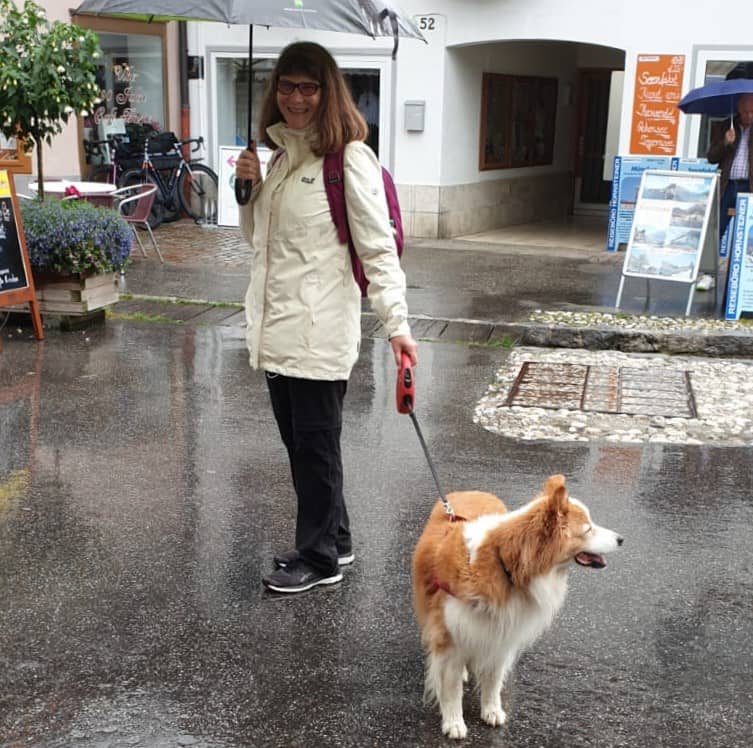 Let's relive our childhood
Soon after, we were back on the street. The rain had subsided. Nevertheless, due to the weather, I guess, there were fewer tourists on the street. On a positive note, the streets looked sexier because of the rain as well as the scanty crowd. Maybe some were attending the church service. But we didn't see as many children in this fairyland as one would have imagined. Firstly, the area is quite thinly populated, and second, the population appears to be more skewed towards the elderly, not only in Bavaria but in the overall Austrian region as well.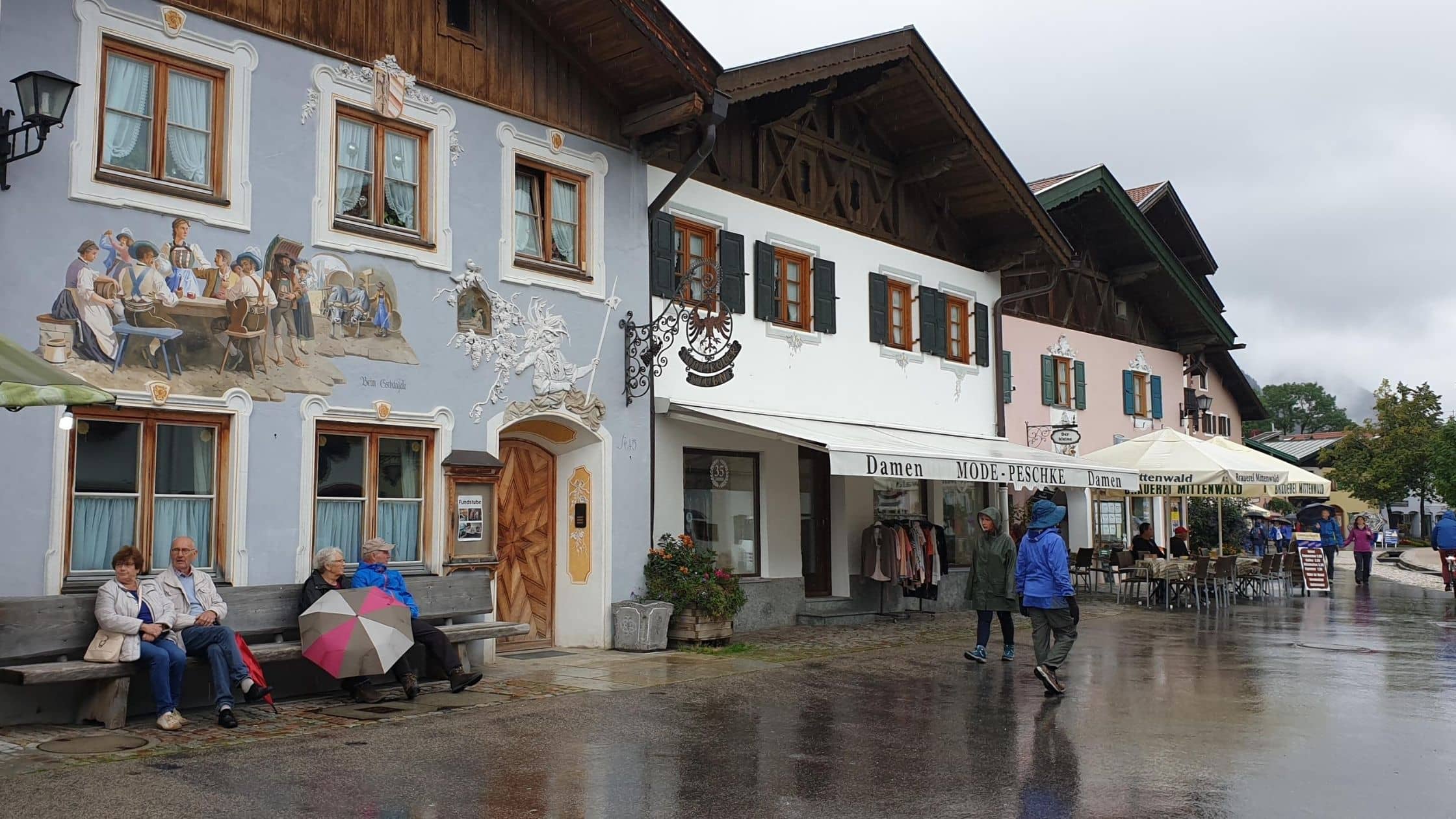 As time passed by while we wandered on the Obermarkt street, I pondered over the matter and came to the conclusion that Mittenwald must be frequented by the elderly so that they can experience being a child again. Maybe so. But our trip did not go without a friendly tryst with a child and a first hand at Gemütlichkeit as you shall see soon. But before that, I need to give you some background about the famous Klotz family of Mittenwald.
The Klotz family of violin makers
Legend has it that in the 17th century, there lived a famous violin maker (called Geigenmacher in German) by the name of Mathias Klotz. Klotz had learnt the art of violin making in Italy and had returned to Mittenwald and opened a workshop here. Soon his violins became famous for their craftsmanship and quality – further enhanced by his son and grandson.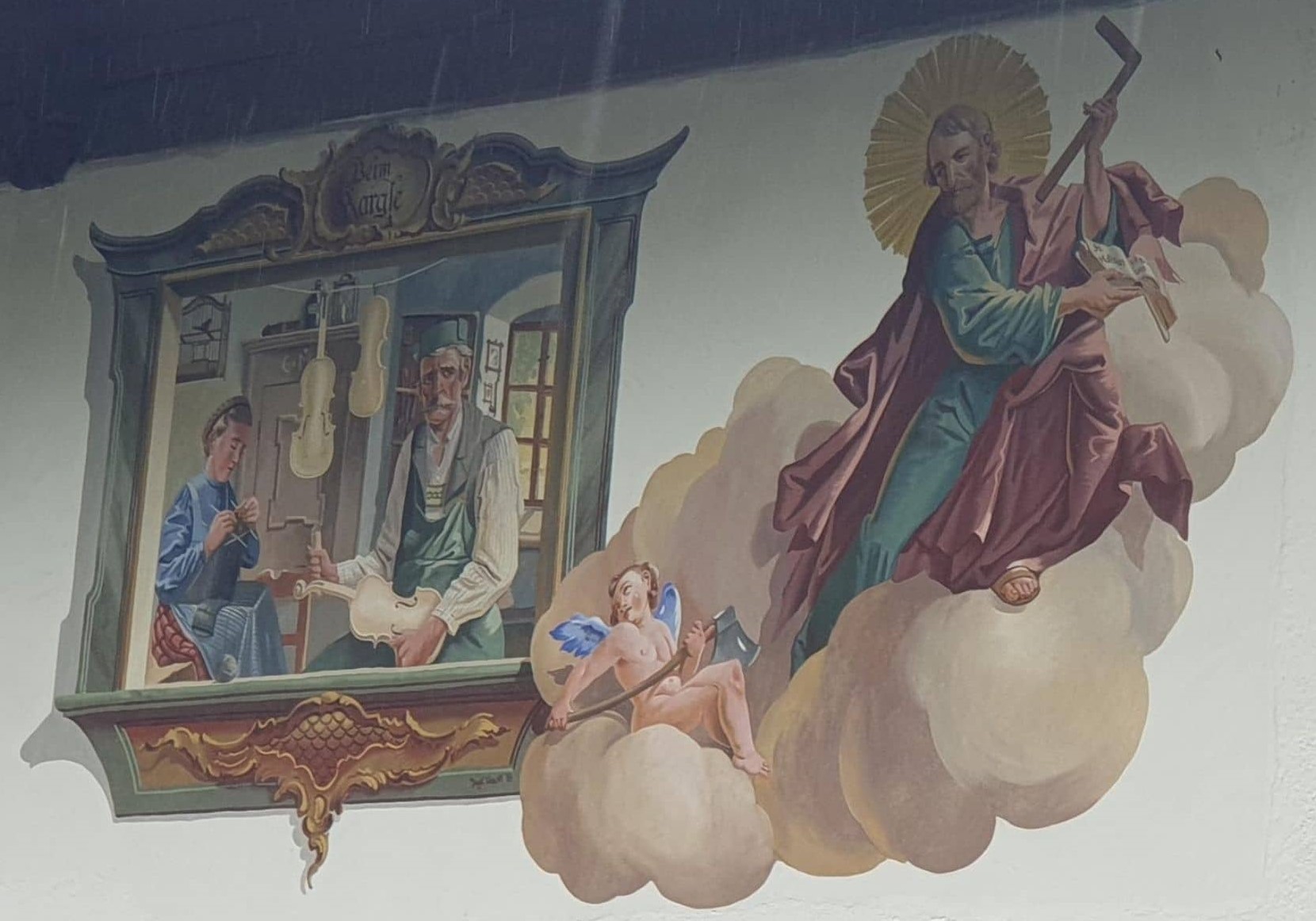 The Klotz family has since then handed down their craft from generation to generation. There is a wonderful museum called the Geigenbaumuseum dedicated to this legacy near Saint Peter and Paul's cathedral.
At the souvenir shop, we saw a number of mementos depicting Mathias Klotz and his violins showing how his name is revered and loved even today. It was at this souvenir shop that I had the most joyous experience of German friendliness surpassing anything else I had witnessed before.
The souvenir shop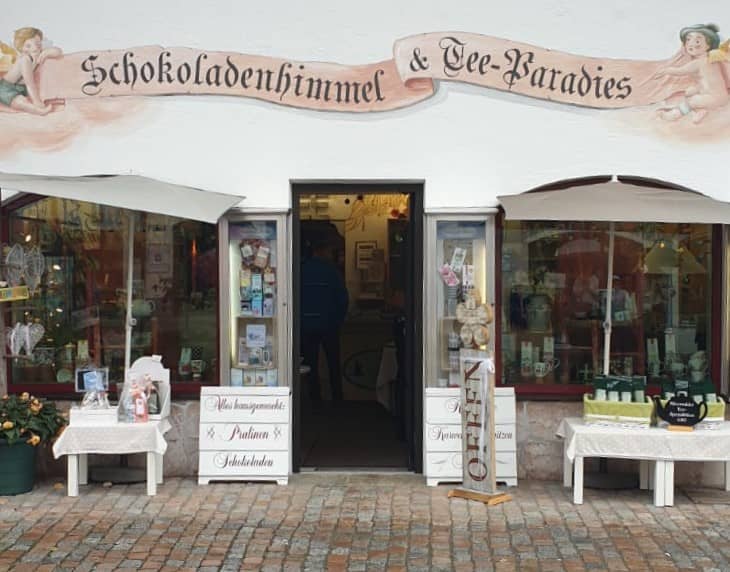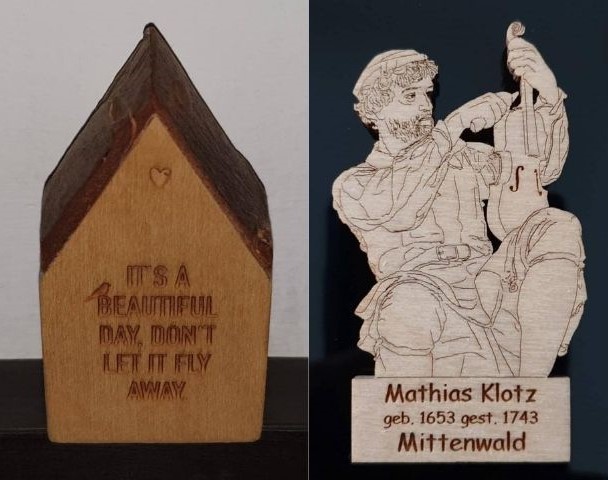 Let's lunch